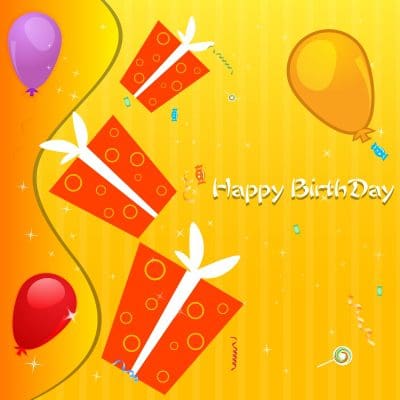 Nice Happy Birthday Letters for your friend who is far away
We would have all kinds of friends but there are some of them who would always occupy an important place in our lives and there is nothing in the world that can make us forget them, not even because you are in another city or even in another country, your friendship will not end and much less today than we have tools to keep in touch like Facebook and Twitter.
So if your friend's birthday is close you can send him or her a letter to wish success and happiness in this day of celebration. In this article we bring you two examples of birthday letters for your friend who is far away. Do not forget that you can send it through your Facebook or email.
Example 1 of a happy birthday letter for your friend who is away:
From: Andrea
To: Mercedes
Happy Birthday my dear friend:
It's been so long since you left and I do miss you a lot and I want you to have the certainty that no matter how much distance would be between you and me, I still consider you my best friend and I really appreciate you with all my heart. I miss those times we had together but I know you made the best choice for you because you are making your dreams come true.
I am writing this letter because today is a holiday, it's your birthday and I want to send you many kisses and hugs through this letter. I want you to have a great day and especially I would love you to be in good company.
Never forget who you are, a wonderful person. Thank you for sharing this time with me and especially for helping me through the tough times. It is my deepest wish that all your plans come true and may your days be filled with much happiness.
So long my friend, have a happy and wonderful birthday.
Example 2 of a happy birthday letter for your friend who is away:
From: Francesca
To: Laura
Lauris:
Hello, how are you? I hope very well as all your family. There are many good reasons to write you this letter. To begin, I want to tell you that I love you as a friend and I know you always will be there, even though we are in different countries.
The day you left to live somewhere else I thought that we would forget the one from the other, but that didn't happen and that fills me with joy.
Second, I want to thank you for all the good times we spent together and also so for being so attentive to follow all the things that happen to me, I want you to know that I am also worried about you.
Finally, as today is a very special day, the day of your birthday I want to tell you Happy Birthday! It was impossible for me to forget this important date and took the opportunity to send my good wishes. So, have much fun on this day with people who love you.
Goodbye my friend, I love you.
Do not forget that you could use these sample letters to wish a happy birthday to your friends that are far away and you could bring much joy to them. Choose the model that you like and customize it for your friend. Come back soon for more letters!
Image courtesy of "digitalart" / FreeDigitalPhotos.net
Tags:
learn how to write a happy birthday letter for my friend, good example of a happy birthday letter for my friend, beautiful example of a happy birthday letter for my friend, writing a happy birthday letter for my friend, free tips to write a happy birthday letter for my friend, tips to write a happy birthday letter for my friend, free example of a happy birthday letter for my friend, wonderful model of a happy birthday letter for my friend, free advices to write a happy birthday letter for my friend, advices to write a happy birthday letter for my friend