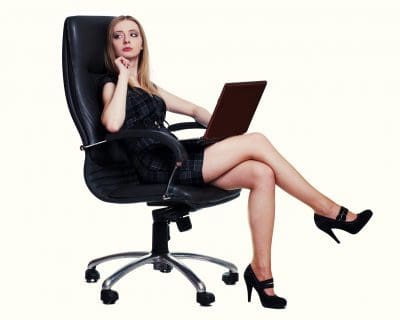 Do you want to seduce your secretary? Find out how
Sometimes, for many reasons, you have thought about seducing your secretary, the coexistence hours at work, may generate unexpected feelings or desires, this might increase if the woman is very beautiful. Here we expose some tips that can help you conquer your beloved secretary.
First avoid misinterpreting the intentions, as it may be considered sexual harassment because the boss is of a higher charge and represents a figure of power. For this it is good to establish a relationship of trust and sincerity, thus avoiding future legal problems.
Then, to start the seduction, one might start by inviting her to eat, in the launch time for example, and slowly gaining her trust, maybe you can offer her a ride to home. Also do not forget the small little details that women always love like affectionate treatment, eyes crossing, smiles and kissing her cheek.
A very nice touch, to win her affection is to remember important dates like Secretary's Day, her birthday or even better like celebrating the time you have worked together. The main thing is to give notice of how important she is to you, and that is the key to the results of their work.
We must be very clear, if you have a long-term relationship with your secretary, then a relationship without commitments can lead to conflicts at work, damaging the environment and generating labor tensions and pains. Do not forget that outside of work there are many women available who may not represent any problem.
If you truly want and believe that it is worth to seduce your secretary, it must be clarified that the relationship that is about to be established should not affect the work. In office, the behavior must be correct and professional.
Before starting the techniques of seduction, we must know whether the secretary in question, has children or is single. In the first case, single mothers generally seek stable relationships that lead to marriage; if you do not seek the same it could lead to problems. In the second case, if she misunderstands your actions it could lead to a sexual harassment suit.
You may not forgot that seducing your secretary is not the same to seduce a woman at a party because it may carry potential problems involving labor and legal ones, but it may not matter, when the desires and feelings are strong. Establishing a clear position from the start, would avoid possible regrets. You know what you have to do to seduce your secretary, good luck.
Image courtesy of [image creator name] / FreeDigitalPhotos.net
Tags:
how to seduce my secretary, seduction, secretary's seduction, tips to seduce my secretary, free tips to seduce my secretary, i want to seduce my secretary, disadvantages of seducing my secretary, how to conquer my secretary, secretary's conquest, conquest of a secretary