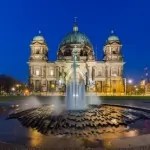 Download new Christian texts
Nowadays, fewer people follow God's word and apply it day to day, which is very bad as it indicates that his example and the love that he showed us is not being well appreciated by young generations.
If, for some reason, some people have turned away from Christ, they will always be on time to follow him again as he will always wait for them with his arms open. Preaching the word of God is a great way to show your love for Christ and keep up your spirits, and so many more people will know what our Lord did for mankind. On the next few lines we will show you some texts you could use to achieve this purpose.
Free examples of Christian texts:
:: "The lord will always be with us, supporting us in every step we take in our lives, and although we cannot see him, that does not mean that he is not protecting us. He will light our way through adversity, so we can place our faith in him at all times. If we make any mistakes, he will forgive us and he will never turn his back on us, so we have his immense love in our favor. That is why, my love, I write you this text to show you that we must be with him so that we can be very happy forever".
Category: christian texts
:: "Today I want to thank the Lord for placing you on my way, such a special and noble being, who I have completely fallen in love with. It is a great blessing for me to have found my perfect match and I am sure that God, in his infinite love, wanted this happiness for me today. Thank you my Lord for all the joy that you have given me, you will never fail me, which is why I always want to follow your good example and somehow prove the great affection I have for you. My love, I want us to be very happy together with the help of our God, always loving and respecting each other".
Category: christian texts
:: "Dear God, my happiness today is endless, something that I had never been able to say before, and it is all thanks to you; you chose this wonderful person for me, with whom I share my life today. I am pretty sure you we the one who did this possible, you always brighten up my way and gave me this great joy. I thank you with all my heart for being my guide, my protector and for all the joy that you give me every day. God is the example that everyone should follow, our path to happiness, so out path must be the way of the Lord".
Category: christian texts
:: "Dear Lord, you are the reason for all the happiness I feel. That is why today I want to thank you for one of the greatest blessings that could have given me, finding my better half. I always want to follow your path as you have always guided me in the right direction and allowed both myself and the person I love to be happy following your great example".
Category: christian texts
Good luck when dedicate these messages to that special person in your hearts; and remember that God is the best example of life, follow suit.
Image courtesy of "khongkitwiriyachan" / FreeDigitalPhotos.net
Tags:
beautiful christian texts, download christian texts, new christian texts, original christian texts, send free christian texts, christian texts examples
If you liked this page you can help us sharing with your friends on Facebook,Instagram,Messenger,Twitter,Whatsapp. Also if you want you can help this website by sending your christian texts, and will be published, others friends will thank you.