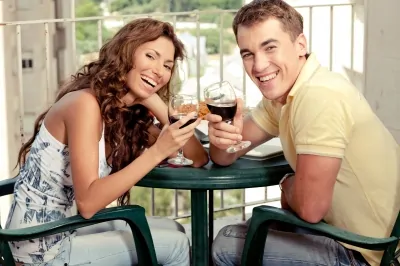 Prepare an special evening for your partner
Make your partner find happiness by your side with cute little details, for that you must take the initiative and find the perfect moments to surprise her.
If you think that night time is a very special moment, you are not wrong, so you can prepare a special moment according to your preferences and the ones of your partner. You can plan a romantic encounter, or a moment full of fun. In this section we will give you several ideas in order to make your evening with your partner memorable.
The appearance
Your appearance will always be your presentation letter, this is why you should take a lot of time to prepare and look attractive to your partner. For a special occasion you should use the best clothes you have, go to a spa for a session of facial cleansing and a good haircut will always come in handy.
Choose a suitable location
It is key factor which you must plan for in advance. If you and your partner love music and dancing, then a disco would a perfect place for both, if you like to spend time full of peace and quiet where you could dialogue easily then you may choose to have dinner at a restaurant, or go to a cafe. The idea is that both of you feel comfortable and can enjoy your evening.
Be a gentleman
Your partner will be thankful for all the gestures of attention you have with her. Ask her how her day was or what projects she has for the future and listen to her looking closely into her eyes and avoiding any distractions and especially do not interrupt her. If she asks any questions to you or asks you for your opinion, remember to give a concise answer and that you have prepared the night to make her feel good.
Couple gestures
Body language is very important and it says a lot of things that words cannot. It shows that you feel happy to have her with you, so when you walk together takes her hand and embrace her, open the doors of the places you will enter and if there are no doors, then allow her to enter first, if you are with people you know do not forget to introduce her and caress and kisses at the right time.
Avoid all kind of interruptions
For this evening to be perfect, you have to avoid any annoying interruptions, push aside any commitments you have with friends and family for the night to make your partner feel that she is the center of your attention, so you better turn off your phone. Do not invite her to the places you usually go to with your friends or where they usually take partners to in order to avoid encounters that can turn your special evening into a group night. Choose a special place and make the night just for you two.
Something to say
There will be more than a single special moment in which you should tell your girl romantic words. Throughout the evening take advantage of the various times you have to praise her beauty and all that you love about her. If you combine your words with body language (for example holding her hands and staring into her eyes), the effect will be much bigger.
At the end
If you followed all the recommendations we have given you, your partner will be fascinated with you and you both will have spent an unforgettable moment. From that moment on anything can happen.
Image courtesy of "imagerymajestic" / FreeDigitalPhotos.net
If you liked this page you can help us sharing with your friends on Facebook,Instagram,Messenger,Twitter,Whatsapp.
Tags:
good tips for a special night, excellent tips for a special night, the best tips for a special night, very good tips for a special night, wonderful tips for a special night, good ideas for a special night, excellent ideas for a special night, the best ideas for a special night, very good ideas for a special night, wonderful ideas for a special night