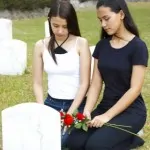 Excellent condolences phrases
On the break of such a painful situation such as the death of a family member or friend, we feel so sad that it is indeed very difficult to have our thoughts clear. However, it is important that we dedicate a few words of encouragement to the relatives of the deceased that can alleviate some of the pain.
Be very careful when addressing the relatives of the deceased because otherwise you could say something that causes them even more grief. Given that it may be a little difficult to express your feelings, in this section we have prepared a list of phrases you can use to express your condolences. These messages will be of great help in such circumstances.
Free list of condolences phrases:
– "My beloved sister, I know you feel great sorrow for the death of your husband. It is a trial that God has placed in your way and you know it must overcome. He is now resting in peace and from up there he will take care of you and your children. Receive my most sincere condolences".
Category :condolences phrases
– "Tonight we are very sad by the passing away of our great friend. He was a very special person and if the Lord wanted to take him, we can only is accept His will. My most sincere condolences to his family and loved ones".
Category :condolences phrases
:: "Our great coworker was always a good man, there is no doubt that he is now resting in paradise. I pray that we receive the comfort we need to surpass this. To all his family I send my deepest condolences".
Category :condolences phrases
:: " Beloved daughter, I know you must be feeling a great pain by the departure of a great friend. Life is like that, and if the Lord decided to call her to his side, you should only have resignation. She has died, but her memory will always live in you".
Category :condolences phrases
:: "I want to tell you that I will never get tired of begging God to give you the strength you need right now. It is very difficult to deal with a situation like this, but we just have to get used to living without (name of deceased ) . May he rest in God's glory".
Category :condolences phrases
:: " My father struggled a lifetime to make us happy, and despite having been ill during his last years of life, he taught us to never give up. He was a great example and his memory will remain alive in each of our hearts. God sends us to this world with a mission and his was to be a great father and a good husband. I will always remember you Dad".
Category :condolences phrases
:: "Dear friend, our great friendship was born since we were children and we have lived so many memorable moments that brought us together. I am so sorry for the loss of your beloved grandfather, I know he was like a father to you. You can not do anything about death, just accept it and resign. Get my heartfelt condolences and may God bless you for what you have to handle is very sad".
Category :condolences phrases
:: " Luis Alberto , on behalf of the company we want you to receive our heartfelt condolences on the loss of your mom. These are difficult times, yet we want you to know you have all the support from all of your colleagues".
Category :condolences phrases
Image courtesy of "Stuart Miles" / FreeDigitalPhotos.net
If you liked this page you can help us sharing with your friends on Facebook,Instagram,Messenger,Twitter,Whatsapp. Also if you want you can help this website by sending your originals Sms, text, text messages, quotes, condolences phrases, and will be published, others friends will thank you .
Tags:
condolences messages, condolences phrases, condolences sms, condolences text messages, condolences texts, condolences thoughts, condolences verses, condolences poems, condolences wordings, condolences quotations