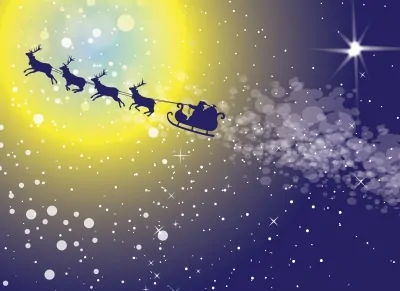 Christmas Reflections
The Christmas holidays are the best times to remember and share moments of joy. Being part of a family group that everyday struggle against adversity with intent to remain united, is a great reward for all, having a brother with whom you can spend happy moments is a blessing heaven give to us.
In special holidays we should have goals to improve as individuals and give love to our neighbor as we were asked by our Lord Jesus Christ. It is always good to read a Christmas reflection, understand and share it with others. Send Christmas reflections to all your friends and family on their Facebook walls or send them as SMS. Here are the best reflections appropriate for this holiday, look at all, you will find on you like.
Free List of beautiful Christmas reflections:
-The Christmas holidays are the best times to meditate. I wish that in these celebrations the child Jesus would accompany and bless you wherever you go, and the starry night would light the way. Merry Christmas and a happy and prosperous New Year.
Category :Christmas messages
-I wish the rays of the star of Bethlehem could fall on your homes and would make improve this world. Merry Christmas to your beautiful family, do not ever lose your essence or change.
Category :Christmas messages
-We should always be thankful for everything we have experienced and learned during our lives and for the portion of happiness that we have been given. A big hug to greet all my friends for these beautiful New Year as it is a pleasant moment to share.
Category :Christmas messages
-This Christmas come to my house, as the lyrics of a beautiful song. Together we can taste the love this holiday season, May heaven guide and take care of you so you will always be a good person with abundant blessings. Have a beautiful day!
Category :Christmas messages
-It is about Christmas Eve and we all together as brothers are making final preparations for the arrival of baby Jesus into our homes. Enjoy and be happy that the child was born and now we have his company. Merry Christmas are my best wishes.
Category :Christmas messages
-I wish a beautiful Christmas to all my loved ones and the Christmas spirit would make feel them that this world is full of peace and love even though there are always difficulties. May heaven always bless us. Happy Christmas.
Category :Christmas messages
-Melchor, Gaspar and Balthazar have just arrived, bringing gifts to the baby Jesus. Sing and shout :God's son is born!. I wish you a Merry Christmas with all my heart.
Category :Christmas messages
-I wish you a beautiful Christmas Eve, along with the people you love. Enjoy Christmas from the beginning, is about to start the magic. The birth of Jesus is the purpose of Christmas. Have a beautiful Christmas and a super New Year.
Category :Christmas messages
We hope you like these Christmas sentences which have been thinking for you, and that Christmas would bring love and peace to all your loved ones. Come back soon to this site, we have lots of nice phrases and much more for you.
Image courtesy of [image creator name] / FreeDigitalPhotos.net
Send your originals Sms, text, text messages, quotes, Christmas messages , and will be published, others friends will thank you .
Tags:
Christmas messages, Christmas phrases, Christmas poems, Christmas quotations, Christmas sms, Christmas text messages, Christmas texts, Christmas thoughts, Christmas verses, Christmas wordings