Throughout the year, any special occasion can be a perfect excuse to dedicate beautiful romantic messages for your girlfriend.
If you are looking for sweet messages for your girlfriend on Women's Day, we have good news because you have come to the right place.
Use any of the following original Women's Day phrases for your partner and let her know how much you love and admire her.
:: "The brightness of your eyes shows the beauty of your interior and enlightens my heart falling in love even more. Never change your beautiful way of being. Happy Women's Day!"
:: "You are amazing at your job, a really fascinating girlfriend and a very intelligent, strong and determined woman. Have a nice Women's Day, my love! "
:: "Sweetheart, you are an admirable woman, because your goals are not altered until you meet them, you have a great temperament. Congratulations on Women's Day! "
:: "Happy Women's Day! I thank the universe for having met you and for every second I spend by your side sharing so many beautiful experiences. "
:: "Congratulations on this Women's Day, my darling! Thank you for your example of struggle and perseverance. "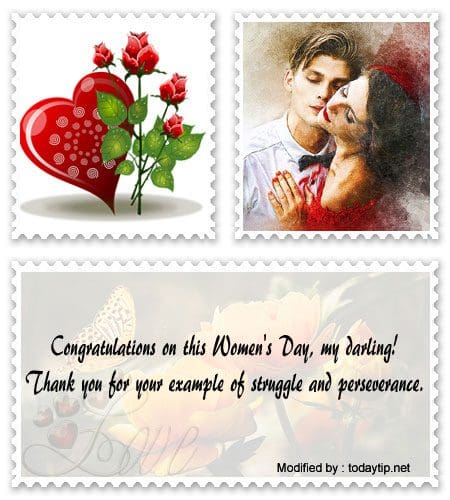 :: "Happy Women's Day! You fight for your dreams no matter what the whole world thinks and even if you face big problems you always overcome them. You're the best!"
:: "You are a magnificent woman, who besides being beautiful, transmits light and vitality to everybody. I love you with all my heart. I wish you a Happy Women's Day! "
:: "Your triumphs arouse great joy in me because it makes me happy to see you achieve all your dreams one by one. Happy Women's Day!"
:: "Thank God for giving me your company, example, encouragement and for that fighting spirit that moves us all. Congratulations, my love! "
:: "Happy Women's Day! Your heart is full of light and strength, and with them you transform your desires into achieved goals. "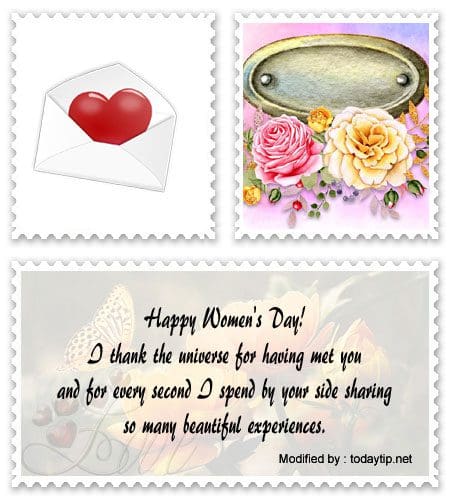 :: "You really fascinate me, you are a wonderful woman, I fall in love with your beautiful feelings and I am amazed by your intelligence. Happy Women's Day!"
:: "Your power knows no limits, you are a life fighter and your dreams will be fulfilled one by one. Happy Women's Day, sweetie! "
:: "Congratulations on this Women's Day, my love, you stand out for both your courage and good feelings. Thank you for letting me share my life with you."
:: "Happy Women's Day, my beloved girlfriend! Thank you for being my source of energy and for always encouraging me to continue. "
:: "Thousands of congratulations on this Women's Day! May your light continue to shine brightly so that you illuminate all those around you. "
:: "In addition to wishing you a Happy Women's Day I want to congratulate you for always moving forward regardless of the size of the obstacle."
:: "My greatest fortune is to be able to travel the paths of life in your company, thanks for being the person who always drives me forward. I wish you a Happy Women's Day! "
:: "May God bless you for being such a wonderful woman and I wish that you always keep those beautiful feelings that inhabit your heart. Congratulations!"
:: "Happy Women's Day! When you set out to do something, you do it from the heart and that is why you achieve anything you propose. What a great pride I feel to be your boyfriend. "
:: "This world revolves thanks to women and my heart does it around yours, which is why I am so happy. Have a nice Women's Day! "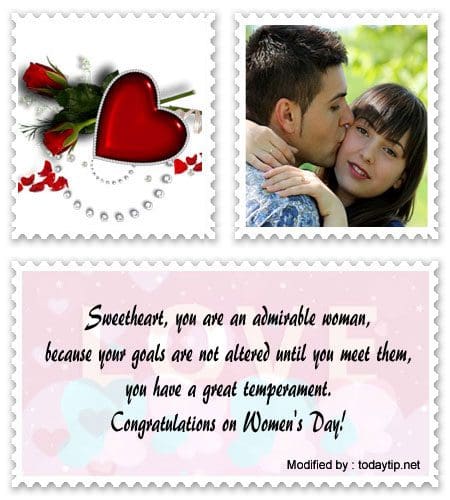 :: "You are a very brave and perseverant woman and there is no door that you cannot open, always keep on being the pride of our family. Happy Women's Day!"
:: "Happy Women's Day, honey, you bring peace to my life, you give courage to your community and you are the pride of all who love you."
What a beautiful opportunity to surprise your girl with tender romantic texts on Women's Day. Keep conquering her heart with any of these cute love dedications for your girlfriend.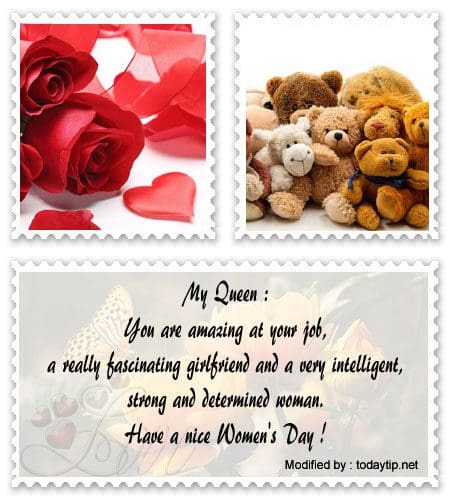 Mothers, girlfriends, sisters, friends… all women in the world are special and important and play a key role in everyone's life.
That is why on this Women's Day you can't stop sending a beautiful message of love to that woman who is so important to you.
The power of a beautiful phrase of love for Women's Day is incredible, so take advantage of it now. Remember that they are all free.
:: "I want to thank you for all the sacrifices and efforts you have made throughout my life. I wish you the happiest Women's Day, mom. You rock and I love you dearly".
:: "Sister, I feel that my heart is going to explode with so much love and pride for you. You are becoming a beautiful woman, full of dreams and goals that I know you will soon achieve. Happy Women's Day".
:: "Love, I am the happiest man because I am lucky enough to be able to tell you how much I love you every day. Thank you for all the love you give me, I want you to have a very happy Women's Day".
:: "My dear friend, I wish you a beautiful Women's Day because there is no one who deserves it more than you, that is for sure. I love you very much and I thank you for the beautiful friendship we have been sharing for so many years now".
:: "I wish you the best Women's Day because you truly deserve it as your heart is the most beautiful amongst them all. You are an example and I want to wish you a beautiful Women's Day".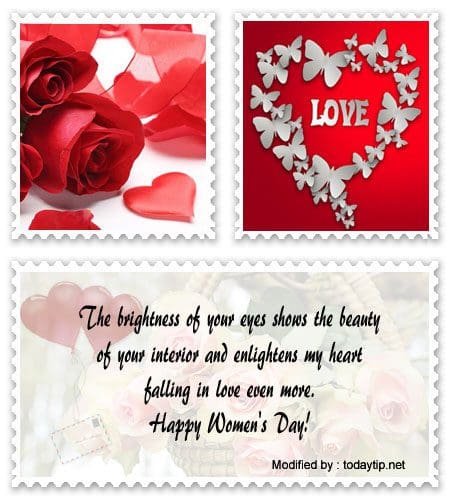 :: "Little sister, when I see you I can't help but imagine the beautiful woman you will become very soon. Do not forget that I love you very much, never. Happy Women's Day and lots of kisses".
:: "I am writing to wish you an unforgettable Women's Day full of love. Thank you very much for your unwavering friendship and all the love you have always given me. I adore you".
:: "Happy Women's Day, Mommy! Thank you for being the woman you are and for always giving so much love to me and my brothers. We would not be where we are if it was not for you, Mommy. I love you".
:: "Happy Women's Day, dear sister! Let us keep fighting to be women of integrity and pride and let us not let anyone tell us what we can't do. I love you, sister, remember that".
:: "My love, happy Women's Day! By your side I learned and understood how difficult it is to be a woman and move forward in this world. But let me tell you that you do it with absolute grace. I adore you very much".
:: "Baby, it is a great joy that I feel every time I look into your eyes and find all the love that we profess to each other every day. I wish you a beautiful Women's Day, I love you very much".
:: "This message is for my best friend in the whole wide world, the one who helped me to understand the true meaning of a pure and unselfish friendship. I love you, my friend, happy Women's Day".
:: "Dear Sister, I wish you a very nice Women's Day and I hope you never get tired of fighting for everything you want to achieve. You are a great example to me. I love you very much".
:: "Happy Women's Day, mommy dearest! I want this day to be one of pure happiness for you, because you deserve nothing but the best. I love you very much and I send you a big kiss".
:: "Women's Day would not have the same meaning for me if it wasn't for you, my love. I wish you to enjoy this day to the fullest and to keep in mind that my heart is always yours. Love you".
:: "Happy Women's Day to the best sister in the world! Hope you have a good one, little sis. Love you!".
Did you see how cute these Women's Day love lines are? We recommend that you give them a little personal touch before sending them to the most beloved women in your life; you can be sure that they will be very happy to receive such beautiful and creative love messages for Women's Day. We hope to see you here soon, take care!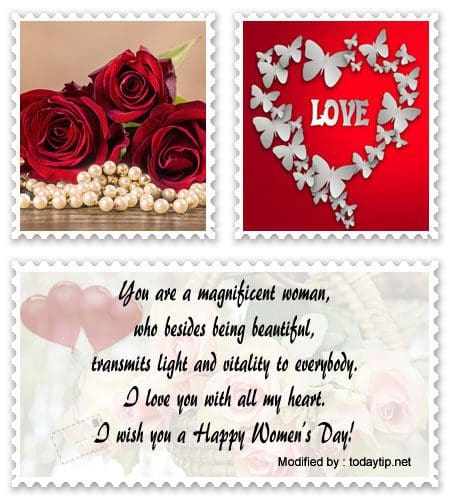 More related posts :
Anniversary messages for my boyfriend
Beautiful thoughts for Valentine's day
Good night love messages
Happy Valentine's day wishes for my husband
I'am sorry love letters
I'm sorry quotes for him
Love messages for my boyfriend
Love messages for my husband
Love text messages
Romantic anniversary messages
Romantic messages for him who is going away
Romantic messages for my boyfriend
Valentine's day sample letters
Credits :
Image courtesy of "Pixabay.com" 
Tags:
Thank you for sharing your love with me Women's day text messages, Sweet and touching I love you Women's day Whatsapp text messages, Beautiful happy Women's day love messages to share by Instagram, Pretty Women's day love phrases download to share by Twitter, Download best Whatsapp romantic Women's day messages for Her

If you liked this page you can help us by giving us a "like" on facebook,  twitter. Also if you want you can help this website by sending your originals Women's day messages, and will be published, others friends will thank you .
as03df03fg20hj