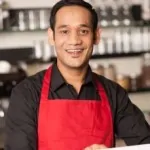 Good job application letter for a waiter
Nowadays getting hired is not easy, there are many people who are without a job and when a new one opens it may have many applicants. It is for this reason that if you want to make a job must learn to stand out from all applicants and one way to do it is through a letter in which you formally present to your future employer and talk a little about your career.
It is very important to write this letter use very formal language and be very respectful without being flattery. Just describe briefly your work experience, your education and your job prospects. In this way the recruiter will know a little more about you and the information provided will be complementary to the information you put on your resume.
Here we bring you two examples of cards to offer your professional services as a waiter. Use them as a guide and customize them for its submission with your resume so you can increase your chances of getting the job you want.
Example 1 of a job application letter:
Montevideo, October 20th, 2013
Ángel Rodríguez
Restaurant "Heavenly Taste"
870 Artigas Street
Phone 5486233
Receive my sincere greeting Mr. Rodriguez:
Through this, I make a formal application to the position of waiter that was published by your prestigious restaurant in the newspaper "Republic" on October 18th.
I have a technical degree as a Professional Waiter obtained at the Institute of Culinary Arts and I also have four years of experience in the position at different restaurants in which I could learn everything about the functions required by the job.
I would like to be part of a restaurant as important as it is "heavenly taste" given that it would be an excellent opportunity for develop my career line. I have attached my resume for evaluation.
Thank you very much for your attention.
Best regards,
Julio Esteban Aristizabal
Waiter
Example 2 of a job application letter:
Lima, October 15th, 2013
Mrs Inés Albarracin
Restaurant "Peruvian Wonders"
650 Manco Street
Phone 8204528
Dear Mrs. Albarracin:
It is my pleasure to extend a cordial greeting and make available my resume to apply for the position of leader of waiters.
I have professional bartender studies at the Institute of French cuisine and have the proficiency in English language as well as a story with six years of experience as a waiter in many well known restaurants.
I consider myself a very hard worker with a high sense of responsibility, I love working in the field and to gain new experiences every day. I want to be part of such an important restaurant as "Peruvian Wonders" because it will allow me to continue growing in my professional line.
In advance I thank you very much for the attention you can give to this request.
Sincerely,
Oscar Gutiérrez
Do not forget to find out who is the person in charge at the place you want to labor. This way you can send your letter in a more personalized way. Check carefully your spelling and writing given that it show a lot about you.
Image courtesy of "stockimages" / FreeDigitalPhotos.net
If you liked this page you can help us by giving us a "like" on facebook, G+, twitter, others friends will thank you .
Tags:
learn how to write a job application letter, good job application letters samples, free job application letters models, excellent job application letters, tips to write a job application letter, free advices to write a waiter job application letter