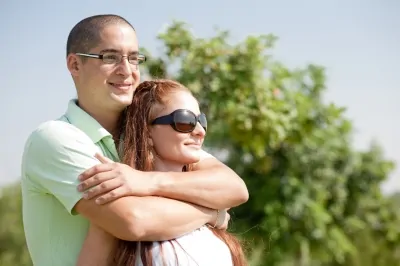 Ideas to make her have you in her mind
If you are someone who will ask: "is she thinking about me?" Then this article has been thought just for you. Along these lines you will discover techniques to be able to be in her thinking.
Have fun
What will ensure that she thinks about you is to share fun times, where you are happy. To do this, try to take her to fun places, such as theme parks, theaters, cinema and disco, among others.
You must also be attentive to the right times in which you can approach her, for example, hugging her in a roller coaster, while watching a movie, when you are dancing, etc., always trying not to embarrass her. Then they will remember those happy days and think about you.
Make her a special gift
On important dates, such as birthdays, anniversaries or Valentine's Day, attempt to pick a present that symbolizes something important between the both of you. It is not necessary that it is a very expensive gift, the important part for her will be the meaning you give it.
For example, a good gift would be giving her the DVD of the first movie you saw together, or a CD with songs that the both of you enjoy. If, on the other hand, you are one of those who prefer something more simple and direct, you can always send a text message (SMS), containing some affectionate or loving words, telling her something she likes.
It is important that you remember that these gestures must to be sporadic, because when it becomes something constant, it could lose the romantic tone and become somewhat irritating for her.
Make her feel beautiful
All women like to have people admiring them, not only because of how they are, but also by their shape and beauty. If you want to be on her mind, do not miss any opportunity that can make her feel good about herself.
To mention some examples, you could tell her that what she is wearing is fine and that you like how she has fixed her hair. Saying this, you will get her to have a raised self-esteem and to be very happy with you. Also, she will think of you whenever she uses those clothes again.
Leave a decoy
If you are still looking to conquer her heart, by means of this technique it is very likely you get her to have you on her mind. When you are anywhere, try to leave something forgotten on purpose, such as a music player or a jacket.
In doing so, somehow, you'll be marking the place where you were and get her to remember you whenever she finds it. Make sure it something she can use, you can be sure that she will use it and think about you.
Show her your attitude
When you arrange to meet somewhere or that you are picking her up, you should always be there on time. If, on the other hand, she likes you to wait for her, you should be patient and quiet, never let her know if it annoys you. When you return, take her hand and walk beside her.
Always seeking to take the initiative and keep the conversation fun and fluid. In this way, she will remember you as someone who has trust and confidence in himself. On the other hand, it is always worth mentioning that this day it is very important for you to wear your best clothes and using a good perfume, the first impression is very important to them, and it will also be important that fragrance is masculine and pleasant.
Image: FreeDigitalPhotos.net
Tags:
excellent examples of ideas to make her have you in mind, free examples of ideas to make her have you in mind, ideas to make her have you in mind, free samples of ideas to make her have you in mind, good ideas to make her have you in mind, ideas to make her have you in mind, nice ideas to make her have you in mind, the best ideas to make her have you in mind, very good free examples of ideas to make her have you in mind, very good ideas to make her have you in mind