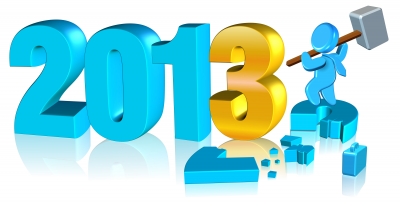 The best posts for New Year
One of the most anticipated celebrations is "the end of the year", because during the night the whole family comes together to share good times and remember everything that has happened over the past year. This practice has different ways to express, according to the country or region, but what it keeps along all kind of celebration is sharing the joy and celebration.
It is not always possible to meet all our loved ones and friends. If you are in a situation like this, it may be possible that you want to send a message of congratulations or greetings to those special people. In this article we will show you a list of phrases you can use freely. There is nothing better than a message of good wishes and positive energy to start a new year.
Free list of the top posts for New Year :
– "The New Year's Eve is a great time to reflect about all the good things we have and also appreciate the people who are always with us. I wish a prosperous and happy New Year to all my friends."
Category :New Year posts
– "There is no greater happiness than to be able to share together as a family more than a dinner, because true happiness can't be bought with money. Happy holidays to all."
Category :New Year posts
– "Christmas is a wonderful time in which we remember Jesus' birth. That's why we are invaded with feelings of peace, love and tranquility. Merry Christmas and happy New Year to all my friends."
Category :New Year posts
– "The best we can do before this year is gone is to analyze what we have done, regret and ask forgiveness to those people we have hurt with our mistakes. Let's start the New Year in the best way, giving us a new opportunity to make things better. Happy New Year to all of you"
Category :New Year posts
– "If you feel that you have had the best year ever in all your life and you overwhelm with a feeling of nostalgia because it's about to go, try to think optimistically and put your effort and mind to make of this new year, better than the last. I wish to you a happy New Year."
Category :New Year posts
– "Before we begin this New Year, do not forget to list your goals for the new year coming. Only that way, you will find the best way to make everything better and achieve the goals you aimed. Happy and prosperous New Year"
Category :New Year posts
– "Do not worry for looking for expensive gifts to your family. Remember that there is no a better gift for your family, than your company, your affection and your love. To all my family and friends, I wish you all a Merry Christmas and a Happy 2013 filled with much happiness."
Category :New Year posts
– "If you really want to live in a better world we must first change ourselves, and in this coming year we must put the hatreds aside and live with more peace and love in our lives. Congratulations and success on this New Year."
Category :New Year posts
– "This is a time where we must let us invade by hope, which will be gather us with our families and have moments full of happiness. Merry Christmas and Happy New Year."
Category :New Year posts
– "During the New Year celebration we meditate on all the things we did during the year ending. We shall see that adversity made us stronger and that happiness came from the hand of our effort and dedication. Happy and prosperous 2013 for all my loved ones"
Category :New Year posts
There's nothing like being able to express yourself to people you love. Do not miss the opportunity to send one of these greetings to your loved ones.
Image courtesy of "sdmania" / FreeDigitalPhotos.net
Send your originals Sms, text, text messages, quotes, New Year posts , and will be published, others friends will thank you .
Tags:
New Year messages, New Year phrases, New Year poems, New Year quotations, New Year sms, New Year text messages, New Year texts, New Year thoughts, New Year verses, New Year wordings