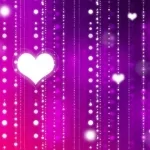 Download cute love texts
When you have a partner, the most difficult thing is to be away from that person that you love, since you always need him or her by your side, to caresses and tell many times how much you love him or her.
When a physical distance exists between the two partners in a relationship, some complications arise, such as insecurity.
Perhaps at some point you think that there is another person or you feel alone, for that reason you should be more energetic when showing your love to the other person, your partner, because if we do that the other person will feel more secure and happy.
For this reason, on the lines below we offer you some examples with texts you can dedicate to your special someone to transmit to him or her how big your love is and that you do not stop thinking about him or her for a moment.
Free examples of love texts:
:: "I know that we are both far away, but I will do my utmost to make our love grow each day. Every single day I think about your touch. You will see that in the not too distant future we will be next to each other once again. I adore you".
Category: love texts
:: "You know me, and I have never really liked easy things, and our relationship is something difficult right now. I want you to be happy while we are not together, I want you to think that as time goes on is better because we are closer to being together forever".
Category: love texts
:: "You do not know how much I miss those happy times we spent together, I also long for the complicated ones as well. I do not know what to do without you by my side, I just want you to be very sure of my love for you. I will not allow the fact that we are not physically together to destroy the love we have for each other. Our love is true and that is enough for our love to last forever".
Category: love texts
:: "From the moment that I started a relationship with you, I knew you were going away anytime because of your profession and what it demanded, rest assured nothing will happen and I will wait for you, I want you to be sure that I am thinking about you at every moment".
Category: love texts
:: "Our love is much stronger than the fact that we are not together right now. Think that my love for you is eternal. For me, what matters most is our love. You are everything in my life, always think about that, my love".
Category: love texts
:: "I will not deny that there are situations where I cannot keep on going and I break down in tears, but at that moment I remember how much I love you and I start thinking about you, and that is when I smile and I get happy. I just have to imagine you and everything changes, you do not know how much I need you by my side".
Category: love texts
:: "I have to confess that I no longer like to lie down under the stars, because I miss your presence. You do not know how much love my heart has stored for you my love, and I swear I will love you forever, no matter if we are away and we cannot see each other, I love you".
Category: love texts
:: "True love has many difficulties, we just have to be patient and every day of our lives try and make our love grow more and more. You must be sure that my love for you is real and that you are the one for me".
Category: love texts
:: "I want so bad to be with you, close to you, the most beautiful place on earth is wherever you are, I think of you every moment of the day, trust me my love, you will see that you will be by my side very soon".
Category: love texts
The hardest part is when the person we love is far away, but everything is possible with love.
Image courtesy of "marcolm" / FreeDigitalPhotos.net
Tags:
beautiful love texts, download love texts, new love texts, original love texts, send free love texts, love texts examples
If you liked this page you can help us sharing with your friends on Facebook,Instagram,Messenger,Twitter,Whatsapp. Also if you want you can help this website by sending your love texts, and will be published, others friends will thank you .