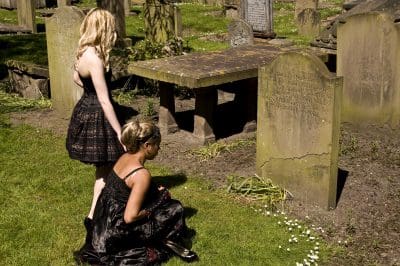 Beautiful Condolences Phrases
Go to the death ceremony of a deceased person is a very painful situation. When someone dies, his family and friends feel a deep sorrow in their hearts. In these circumstances it is impossible for them to rest easy.
If you want you can send a message to the family or friends of the deceased to make them feel better and especially to make them know that someone shares their grief.
In this article you will find a series of phrases dedicated to those loved ones and friends who lost someone they wanted and so, you will help these people to be able to forget his grief for a moment.
Free list of condolences phrases:
– "I know you are very sad for the lost of your sister, but I can tell you she is in heaven resting in peace, since she was a wonderful person and above all had a noble heart."
Category :Condolences phrases
– "Leave away that sadness that is digging your soul; remember that his soul and body are now nearer to our Lord. We will never forget him, Take my deepest condolences."
Category :Condolences phrases
– "His death was so quick, no one expected it, I express my deepest condolences to you. Even though the sadness fills your heart you have to remember that his soul rests in peace."
Category :Condolences phrases
– "I know it's impossible to forget the pain you're feeling, since you lost the love of your life, but you know you have all our support for you to get over this and get everything you need. Take my deepest condolences and let us help you with this terrible lost."
Category :Condolences phrases
– "I express my deepest condolences on the passing of your father, we all know that was an honorable man. During his life, his sons were first and I know you will never forget him but remember that he is now in a better place next to the Creator."
Category :Condolences phrases
– "We can only pray for his soul to rest in peace, that was one of your best friends and especially your confidant, knew him since they were tiny, but do not let his departure sadness fill you, he does not want it for you my deepest condolences."
Category :Condolences phrases
– "Right now there is no light in your way, it's understandable, you have lost the person you always loved, your grandfather, I express my deepest sympathy, but don't let the sadness overwhelm you, he will now stand with the Lord."
Category :Condolences phrases
– "Now that you have lost the man of your life, I don't know what to tell you, I can only give you my condolences and tell you that you have always been an excellent partner for him. He did live with joy in this world, and we know he is beside the Lord at this time shining your way and your little one."
Category :Condolences phrases
– "We have much esteem for you and I know what it means to lose a loved one, your beloved just went away, but we are sure that you will be separated only for a while, because at some point you will be back together again to live happily ever after."
Category :Condolences phrases
I hope these messages are useful to dedicate to the family and friends that have lost a loved one. Remember there is always hope when someone have the support of a friend.
Image courtesy of "Dundee Photographics" / FreeDigitalPhotos.net
Send your originals Sms, text, text messages, quotes, Condolences phrases, and will be published, others friends will thank you .
Tags:
condolences messages, condolences phrases, condolences poems, condolences quotations, condolences sms, condolences text messages, condolences texts, condolences thoughts, condolences verses, condolences wordings