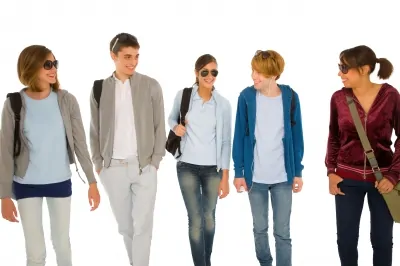 Download free tips to celebrate friendship's day
All the special dates should be celebrated in a unique way.
It is true that many times these dates are used by various brands as a form of advertising their products or services, therefore, dates as, for example, Halloween, New Year and even Christmas are exploited by marketing and advertising strategies and what they really mean or what takes place in them is set aside.
As many other special dates, we also find friendship's day; a day made to go out and have fun with those people who are on our side, who listen to us and accompany us on the best and worst events of our lives.
True friends are extremely important and essential, and it is for this reason that we should celebrate this special day with them. Below we present you some ways to celebrate this day and have fun with them.
Example of ways to celebrate friendship's day:
Tip#1: Men share many varied interests. For example, there are those who love to go out to parties and those who, on the contrary, are quieter; who might prefer to celebrate this day with friends gathered in a house or going to a bar for a few beers and have some good time talking about life.


Tip#2: Another possibility to celebrate this day could be gathering at a friend's house to watch a movie, accompanying it with various snacks and drinks. This plan may be a good idea for those people who don't like much to go out to parties or crowded places; in this way, they can spend a pleasant evening together with their real friends.


Tip#3: A different way of celebrating friendship's day, especially in regards to the elderly, is the go to a night club to enjoy the shows performed by exotic dancers. No doubt it will be a fun and pleasant night depending on the preferences of each one.


Tip#4: Another option may be going to a disco to listen and dance to the sound of the most modern songs. People wishing to have fun together with several people can choose this option; they will surely have a fun night that they will remember for a long time.
Tip#5: Finally, a slightly more common option might be to go out to eat with a group of friends to a restaurant and enjoy a pleasant evening together; talking and laughing, or simply remembering everything that you have lived in the past. Some good places to carry out this plan are the most modern shopping centers of the city, which are filled with many shops and entertaining businesses.


Friendship's day should be celebrated next to all those individuals that we love, spending a nice time with them and remembering that the most important thing is to be together.
We must not forget how essential friends are and how important it is to spend moments together and store them in our hearts.
There are many ways to spend this special day, so feel free to do so. Happy friendship's day! Come back soon to visit us, remember that we constantly post new things.
Now you know it, the way that you celebrate this day is not the most important part of it; the most important thing is to spend it with your real best friends. We're hoping to see you around soon, remember that we are constantly updating the site with much more free content!
Image courtesy of "Ambro"/ FreeDigitalPhotos.net
Tags:
tips of ways to celebrate friendship's day, ideas of ways to celebrate friendship's day, information of ways to celebrate friendship's day, suggestions of ways to celebrate friendship's day, hints of ways to celebrate friendship's day
Send your originals sms, text,text messages, ideas,tips, suggestions, hints, and will be published, others friends will thank you.