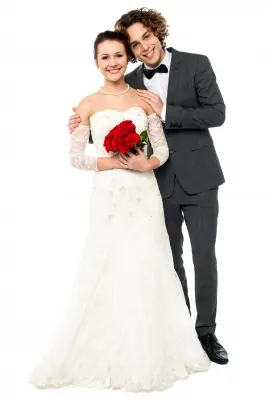 Download beautiful wedding texts
It is very true that when a friend close to us is getting married soon, we go through some difficult moments, even when we understand that he is the perfect person for her. However, it is very important to her that we do not get sad and, quite the contrary, that we are very happy and radiant, that way she will see that despite we are somehow sad for losing her in some way, we are happy for seeing her fulfil one of her dreams.
To do this, it would be a very nice detail if you dedicate a text full of love and affection to her, in which you praise her for the great decision that she is going to make. In this article we offer you various texts that have this purpose, to make her feel very happy, excited and protected by her partner on the day of her wedding. Choose the ones you like most, do not forget that they are completely free and thought specially for you.
Free examples of wedding texts:
:: "In this unique date, nothing but absolute bliss can be seen in your appearance, and that is because you made a valuable decision, one in which your life will never be the same and that I am convinced you will never regret, because it is fantastic . You will be very well together, because I have seen you grow, love and wish the best to each other, and I know that together you will have the life that you want, based on all the features that with him you will never lack anything. I love you dear friend, it is very moving for me to watch you like this so beautiful and radiant, and I hope everything goes well".
Category: wedding texts
:: "I do not want anything more than your happiness, and right now that is the most essential thing for me, never doubt that. The Lord will bless you with love and glory, as the two of you have made a sincere decision and I know you will make your best effort to succeed. We have fought together, we have lifted ourselves from the ground again and again, we have fought countless times and that is why I want the best for you. Do not measure it in what you offer, as in love there are no limits, you will soon know the importance of this advice. Never give up on wanting to build your dream home in which your family will grow. I send you all my love, affection and many blessings".
Category: wedding texts
:: "When the sensation you feel is real and intense, when affection overflows our body and is thrown out of sight when we see our loved one, we realize that it will be forever. That is what I have seen between the two of you and that is why I am so happy that you begin a new life together, despite it may distance us temporarily. I love you with all my being and I know that from this moment, prosperity is the only thing waiting for you in your path".
Category: wedding texts
You will realize how happy she will be to hear from you, do not hesitate and send one of these texts.
See you soon.
Image courtesy of "stockimages" / FreeDigitalPhotos.net
Tags:
beautiful wedding texts, download wedding texts, new wedding texts, original wedding texts, send free wedding texts, wedding texts examples
If you liked this page you can help us sharing with your friends on Facebook,Instagram,Messenger,Twitter,Whatsapp. Also if you want you can help this website by sending your wedding texts, and will be published, others friends will thank you.