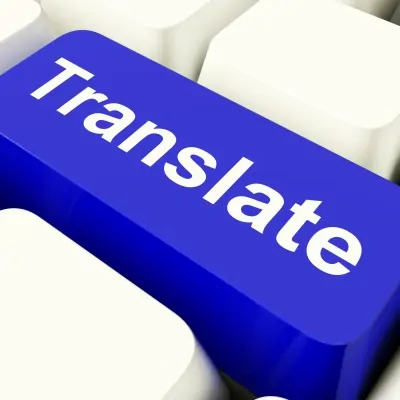 Best online translators on internet :
It is incredible to see the effectiveness of various Web pages translation services, when an infinite number of words is translated into several languages, because of the possibility that many of them have in their huge databases, which can probably be compared to payment services offered by companies with some of this programs.
However, the translator's graphical interface hosted on a website is very simple, it is not very detailed and it does not have good tools. But as to its basic function: translation, it manages to efficiently translate any type of document, even when the result does not turn out to be perfect, due to the fact that some of the phrases do not have proper sense or are scrambled. That's why it is necessary for you to know something about the language, so you can make it coherent and, if necessary, order the words translated a for them to sound their best.
On the Internet there are many free translators, but only a bunch of them achieve a good document translation, the best known is the Google translator, as Google is the the homepage for many users, access is immediate and fast. Among its advantages, you will see that it allows translations into many languages, about 34, there is no restriction regarding the number of characters in the document, it can even translate web pages and very long texts. When entering the translator, it comes with a default service, in which the translation is done from English into Spanish, making it easier to use for the user.
To translate the text you only have to go to Google's main page and then click the bookmark at the top where it says: "Translator", you can continue adding text and the translator will automatically translate it. To translate entire web sites, you only have to copy the address and paste it there, then the translator will open a full window in which the page appears fully translated. It also has a tool to listen to the pronunciation of words being translated, you can start up using it through this link: http://www.google.com/language_tools?hl=en .
The other alternative is the Yahoo! Translator, Babel Fish. This tool is well known and preferred for its intuitive and simple interface, which is why it does not have all the attributes Google does, for example, the word limit for each translation (only 150 words). What must be highlighted about this translation system is thet it is very efficient, some feel that the translation quality and consistency even exceeds the one shown by Google and it offers the option to translate texts to over 38 languages. Just below the translator, there are several tips to help Babel Fish to achieve a better translation. You can now use this translator on this page: http://www.babelfish.yahoo.com/.
There are other translators, as the one offered by the Spanish newspaper "Mundo.es". It has a very limited amount of tools and it can only translate text into three languages (English, German and French), with a limit of 800 words per attempt. But it can also translate entire pages and the translation is impeccable, especially when translating from English to French (or vice versa). To visit this translation, please contact this website: http://www.elmundo.es/traductor/.
Finally, there is another online translator, which is recommended only for small documents, considering the Russian and German language, which draw good translations. This tool has 18 languages to translate, its interface is completely in Spanish and easy to use. The translator can be found here: http://www.politraductor.com.
Image: Stuart Miles / FreeDigitalPhotos.net