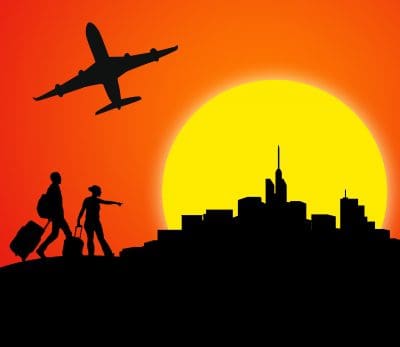 Excellent messages to wish my friend a good holiday
There is no one who does not enjoy a good trip or a nice vacation. These moments are important because they allow us to remember them at all times, with memorable anecdotes that accompany us through the years. It may even be that a trip is not among our favorite activities, whether because we cannot leave our complicated responsibilities, etc.
The important thing is to give us the space to share with our loved ones our best wishes if they are on a journey, whatever the reason for this might be. You'll see it will be very nice for them to receive these messages, happy to know that you have them in your mind and that you wish nothing but the best for them. If he or she is a person who is traveling for the first time since, then your message will give him or her confidence that he or she needs to feel at ease and know that everything will be just fine.
Say goodbye to him or her, and let them know that they are about to take the best holidays of their lives and that they will never regret them. Ask him or her to take lots of pictures so that later you can find out about his or her stories and tell you in detail the experience. Here we bring you examples of things you can say to inspire you and for you to give them your personal touch.
Free List of messages wishing a friend a nice holiday:
:: "Traveling allows us to have an insight that helps us to learn more about how we think, how we behave and how we can react at different times. It is important to give us a space to do it, to get away from the routine that often consumes us. Your hard work is reflected in these vacations you are taking, nobody deserves it like you and I know you'll do great. See you when you return."
Category: have a nice vacation
:: "You're about to face a cultural change that will seem amazing, you're going to see how interesting and open to other cultures are and what are their novel ways of doing things. Any experience you have there will be wonderful, because the perspective of the world changes in exotic locations, allowing us to learn to see things differently. The faces are different, different foods, even the smells. Start with the enjoyment when you come back I am going to want to hear everything that you have lived."
Category: have a nice vacation
:: "I hope your trip is great because there is nothing like a good rest to return recharged with energy. Do not miss the opportunities you have, because they might not always come back. We will be by your side at all times, do not hesitate to communicate or send a message."
Category: have a nice vacation
:: "You do not know how envious I can be right now but you know you deserve it more than anyone. Now I want you to come back and tell me everything, how did it go, who you meet, I want to see photos and more. Bring me a souvenir; there are thousands of sites to know and things to live. Don't worry, we will miss you but we'll be fine and waiting for you."
Category: have a nice vacation
:: "When you go to distant places you might be feeling many doubts, but no matter how far away you are, everyone will great you happily and willing to show you their culture and customs. Do not miss this opportunity because it may be unique. Travelling is the best in the world; buy a lot, and make memories that will last forever. I wish you well; please call me when you get back to get together and so you can tell me everything."
Category: have a nice vacation
:: "Dare to be free to move forward without looking back, to know the unimaginable, to be surprised, to experience live. All trips that we make will confront us with unfamiliar experiences we have to learn to cope with. Everything that you live will serve you good, it will give you a better perspective of the world, what you and others have. Dare to do things well, do not limit yourself and you will be fine."
Category: have a nice vacation
How beautiful it is to receive an encouraging message when we are about to do something unknown and that could frighten us a little. Especially if this message comes from someone we love. Hopefully you enjoyed the phrases that we have prepared and you will be excited to share them with all your friends who are traveling.
Image courtesy of "Idea go"/ FreeDigitalPhotos.net
Tags:
messages wish a friend a nice vacation, phrases wish a friend a nice vacation, sms wish a friend a nice vacation, text wish a friend a nice vacation, text wish a friend a nice vacation,  quotes wish a friend a nice vacation, wordings wish a friend a nice vacation
If you liked this page you can help us by giving us a "like" on facebook, G+, twitter. Also if you want you can help this website by sending your originals sms, text, text messages, quotes, phrases special dedications to wish a friend a nice vacation, and will be published, others friends will thank you.