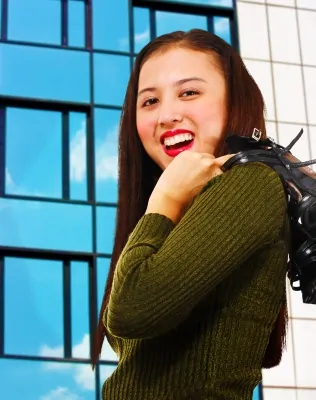 Letter from a father to his 15 years old daughter
For a young person, the moment when he turns fifteen year of age is a longed and awaited moment. It is an occasion that fills them with hope and high expectations as it represents a turning point in their lives, the beginning of a new stage, and of course they want to share this special moment with all their friends and family.
For this reason, your daughter expects a lot from you on that special day and one of the details that you can have with her in this occasion, is to write to her a brief note in which you dedicate a few heartfelt words and express all the love you feel for her.
In this section we bring you two examples of notes you can dedicate to your daughter on the day of her fifteenth birthday. You will see you will touch her heart and she will thank you forever.
Example No. 1 of a letter for a 15 years old daughter:
I write this little note to you on the day of your fifteenth birthday because I want to express my feelings on this day which is special to everyone.
You know I love you with all my heart, you are my princess and one of my biggest reasons to keep moving forward in this life. That is why I have always been by your side, cared for you and protected you since you came into this world and I always will.
Today I feel a great joy to see that you are already a young lady, full of so many dreams and expectations in your life, you will see that many things will be different from now on, but something that will always remain unchanged is the great love that both your parents have for you.
I love you so much, you are my greatest treasure and it fills me with great satisfaction and pride to see you grow and mature so much every day. From the bottom of my heart I send my best wishes for your life to be full of many success and joy. Have a happy and sweet fifteenth birthday.
Example No. 2 of a letter for a 15 years old daughter:
Beloved daughter, you may be surprised to receive this little note but I know it will most likely gladden your heart. Today is a very special day that fills us all with joy, it is the day in which you celebrate your fifteenth birthday and await a wonderful celebration.
You are very important in my life and so I have endeavored to bring you the best, so you can learn to make good decisions and be a woman as well. It fills me with great joy to see that you are a beautiful young lady, and there have been so many wonderful moments since your birth, but today is one of the most special ones.
I love you with all my heart because with you I got to know the happiness men feel when they become fathers and since then you have filled my life with much joy and satisfaction. I love you so much my dear daughter and for that reason I wish you well in your fifteenth birthday, congratulations and success in your life.
Use these note examples to congratulate your daughter on her special fifteenth birthday, remember that you can customize them and write them on a card for her to keep forever. She will thank you.
Image courtesy of "Stuart Miles" / FreeDigitalPhotos.net
If you liked this page you can help us sharing with your friends on Facebook,Instagram,Messenger,Twitter,Whatsapp.
Tags:
tips to write an 15 years old birthday letter, how to write an 15 years old birthday letter, excellent 15 years old birthday letter samples, tips to write an 15 years old birthday letter, advices to write an 15 years old birthday letter, writing an 15 years old birthday letter, free tips to write an 15 years old birthday letter, free advises to write an 15 years old birthday letter, how to write a nice 15 years old birthday letter, good sample of an 15 years old birthday letter