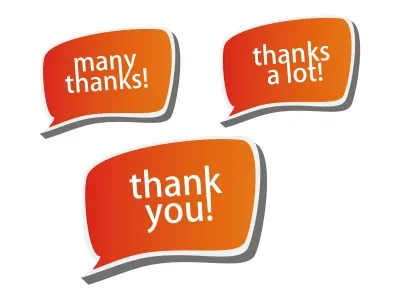 Thanks note for a professional who did a project for my company
All companies that are either small or large want to success because the money invested has to be multiplied if it is possible. For that we need to work with competent professionals who are willing to give the best of themselves for the common good.
But aside from the professionals that the enterprise would have a full time, other professionals would also be needed for a definite time for a specific project. These projects help to develop the company either in the field of advertising, production, logistics, administration, etc.
If the chosen professional manage the project effectively that means that all the stated objectives would be met, and that would bring many benefits to the company. If you would like to thank these professionals, here there are some thanks notes to recognize their work.
Note to thank a professional n ° 1
Healthy Foods
1125 Army Ave.
Caracas – Venezuela
Juan Pablo Moreno Peláez
Bachelor in Management and Marketing
Mr. Moreno
After greeting you so much I want to thank you for successful project that you executed for the enterprise I manage, Healthy Food. Because of that project we have achieved the goals we set, your excellent ideas have helped us in making a better product presentation and it has had a better reception of city's consumers. Also, consumption is now the double in the provinces.
We would like to emphasize that we have been very pleased to work with you and we are very satisfied with the performance you've had.
There is no doubt that in the near future we will need your services but perhaps in a bigger project, and we believe you are the right person to handle it. There is no doubt professional success will keep coming to you.
Cordially
Rodrigo Sanchez Gomez
General Manager
Healthy foods
Note to thank a professional n ° 2
Growing Peace Institute
2569 Los Conquistadores Ave
La Paz – Bolivia
Mr. Piero Morzan Dominguez
Architect
Mr. Morzan:
Through this letter, I want to thank you for your cooperation in the project of construction of new classrooms in the institute that I manage. I want to say that I am more than satisfied by the incredible work that you have done. It has definitely been demonstrated that you are an excellent professional.
I am aware of all the work you have done and that you have invested many hours of your time and an admirable dedication. You are responsible for the comfort in which our students study now. Additionally, I want to tell you that I have very good feedback on the quality of the rooms.
Thank you because, despite of the short notice we gave you, as classes were about to begin, you did an amazing job.
I say goodbye by wishing you success in your career, but honestly I do not doubt that you will have it, and hopefully you can work in other projects in the future.
Cordially
Francisco Perez
Rector
Growing Peace Institute
Image: FreeDigitalPhotos.net
Tags:
examples of notes to thank a professional, free examples of notes to thank a professional, free thanks you notes for a professional, I want to thank a professional, how to thank a professional, ways to thank a professional, very good tips to thank a professional, thank you for your work notes, thank you notes for your work, tips to thank a professional