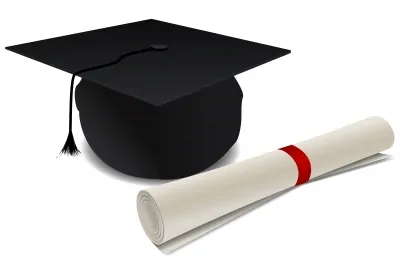 Thank notes for graduation
One of the happiest moments in life is when we graduate, as it is the crown that you deserve for so much sacrifice, hours of study and dedication. Many people in some way help us to complete successfully this part of our life; they are our parents, siblings, friends and our teachers, who are essentials for this purpose.
That is why the graduation ceremony is the right moment to thank all those who contributed to achieve this goal. If you are unsure of what words to use for that great time you're in the right place because here you will find multiple phrases you can use to thank your parents, friends, teachers, etc.
Free list of phrases for graduation:
:: "I am very excited because today I conclude a long episode full of effort and dedication that led me to meet the target that I have had since many years ago, and now my career will open me the real world's door. Several people helped me to get here, that includes my family, my friends, and my beloved teachers, all of them helped me a lot to achieve my goal, thank you all for supporting me and I dedicate this day to you"
Category :graduation thanks messages
:: "I know that this moment will be in my mind and in my heart forever, because I am really happy, but it makes me even happier to know that I give happiness to the people I love the most, and I want to thank you for being my support and my breath over the years, thanks to you I'm where I am now and I promise to continue giving you joy, thanks family, thanks friends, and thanks to my teachers who always believed in me"
Category :graduation thanks messages
:: "All these years have made me a better person in different aspects, in the intellectual one because now I can work on what I like to do, in the emotional as I've learned a lot from each of my colleagues, I have grown and matured and I have learned to appreciate the small things of life, these years have been the most wonderful ones for me"
Category :graduation thanks messages
:: "Today is expected by everyone, today is the day that we go out to the real world. I'm sure we will become what we dreamed so much, everyone will have many successes in the future, and I am glad to have shared all these years with people like you. I'm happy with the quality of teachers that I had and I am very happy because I have wonderful parents who supported me at all times"
Category :graduation thanks messages
:: "Today is a day in which many of us have mixed feelings because we are used to see each other every day, work together and have fun, and we are very sorry it's over, but we also know that another stage of our lives begins and other experiences will come, we should always keep in touch, and I expect everyone has success in their next step"
Category :graduation thanks messages
Express any of these phrases in a graduation context; they would be perfect for an occasion like that.
Image: FreeDigitalPhotos.net
Send your originals Sms, text, text messages, quotes, graduation thanks messages , and will be published, others friends will thank you .
Tags:
graduation thanks messages, graduation thanks phrases, graduation thanks poems, graduation thanks quotations, graduation thanks sms, graduation thanks text messages, graduation thanks texts, graduation thanks thoughts, graduation thanks verses, graduation thanks wordings