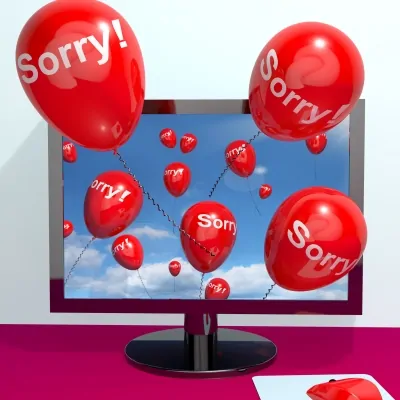 Nice text messages to apologize
When we make mistakes and hurt any of our loved ones we can feel much pain and anguish. If we hurt someone's feelings is like breaking a glass, when it's done, it will never be the same again and repair it will be a difficult task. For that reason, an apologize results so complicated, but remember that showing regret is better than saying nothing.
Due to technological advances nowadays communicate with others is easy, you can send a SMS to apologize yourself for any mistake you have done and any hurt you might have caused to others. In this article, we will show you a list of messages that would help you to say sorry through text messages.
Download free cute apology messages:
– "I ask you to forgive me for my inappropriate behavior; I got so angry when I receive that bad new. I didn't know how to deal with my anger. I can't stop thinking about that day, remembering how bad I made you feel. You are not the responsible for that situation at all, I'm really sorry. I do not know how to express myself properly to say I'm sorry, I swear it will never happen again."
Category :apology text messages
– "I did not realize how much you worth and I was guided just by appearances, things are not the same when I'm with you, I need your love, your advice. I really apologize. If you want, I kneel before you to end this situation. I wish we can have a relationship full of love and peace. I love you with all my heart."
Category :apology text messages
– "My darling, I feel terrible for what I did, can you please forgive me? Since I'm by your side you have supported me in everything, I need you please! you complete me!. My life, I ask you to forgive me and give me a chance to correct my mistakes, I'm willing to do whatever you want to fix this situation."
Category :apology text messages
– "Please let me show you that I have changed and I feel very sorry for what I did, I beg you to apologize me and let me stay with you. Let's start our relationship again. Please receive my apologies to return harmony to our hearts and I guarantee you it will never happen again. I'm willing to do anything you ask to have your forgiveness."
Category :apology text messages
– "Once again I come back to beg you to forgive me, I made a mistake, I ignored your warnings and your good advice, I judged you the wrong way and I did not believe in what you said. It's sad to wake up every day thinking that I hurt you. If you don't forgive me now, I will understand, but I promise you I will move heaven and earth to gain that forgiveness my friend. "
Category :apology text messages
Choose one of these phrases to ask for forgiveness to that person who you hurt so much. You can send your apology through social networks or text messages.
Image courtesy of "Stuart Miles" / FreeDigitalPhotos.net
Send your original apology text messages , and will be published, others friends will thank you .
Tags:
cute apology messages, nice apology phrases, new apology poems, send free apology quotations, share new apology sms, download apology text messages, share free apology texts, new apology thoughts, cute apology wordings