Searching sweet & romantic anniversary messages ? . Anniversaries are one of the most special days of the year for a couple and should always be celebrated as such. Dare to make your beloved one feel as special as possible with one of our beautiful messages to wish them a happy anniversary.
We assure you that his/her face will light up with joy when reading a cute anniversary text message like the ones you will find below.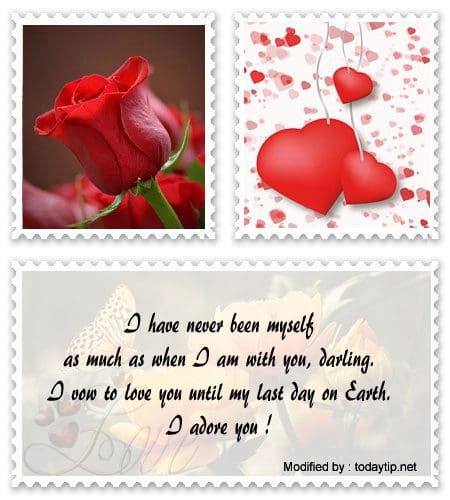 Heartfelt happy anniversary messages
with images
:: "I have never been myself as much as when I am with you, darling. I vow to love you until my last day on Earth. I adore you".
:: "We were born to be together and we will always be, my dear. Thanks for sharing your life with me and happy anniversary. I love you".
:: "I can feel like you can look straight into my heart and soul, and I love that I can share everything with you. Happy anniversary, my love".
:: "It is not easy for me to open up, but you have changed me into a better person and I can say that I simply adore you. Happy anniversary".
:: "You make me feel like the luckiest person on Earth and sharing our days together feels like a dream. Happy anniversary, baby. I love you!".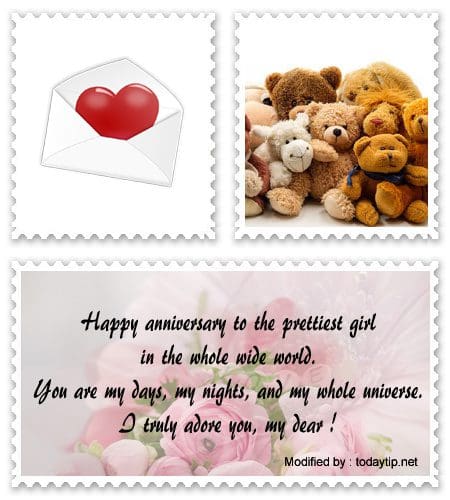 Find most tender love messages
for anniversary
:: "Happy anniversary to the prettiest girl in the whole wide world. You are my days, my nights, and my whole universe. I truly adore you, my dear".
:: "Every morning I wake up with one idea in my head: making you the happiest woman ever. Thanks for putting up with me and happy anniversary, darling".
:: "Something about us makes me know that we are always going to be together, and I could not be happier about that. Happy anniversary, my love".
:: "I want to look into your eyes right before you fall asleep and then be the first thing you see in the morning. I love you, my dear. Happy anniversary!".
:: "I want to hold your hand forever and show you a world full of love and wonder. Happy anniversary to the man of my dreams, I love you".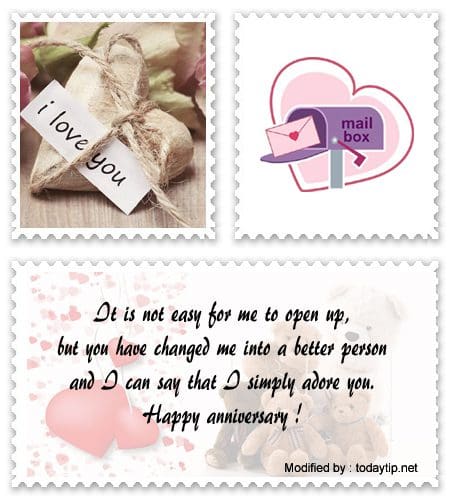 What to write in an anniversary card
to girlfriend
:: "Hearing the sound of your voice is just amazing. I don't think I could love you more than I do, but every day you prove me wrong. Happy anniversary".
:: "Sometimes things seem to be more complicated that they really are; you taught me that and helped me discover an amazing world. Happy anniversary, I love you".
:: "Here we are, my darling. It has been 10 years since we started this adventure, and I can only say that I am ready for 10 more years. Happy anniversary".
:: "Forever might sound like a long time, but I don't think it is when it is spent with someone as amazing as you, my love. Happy anniversary".
:: "I toast for many more years to come by your side, my dear. Thanks for being as you are, I wouldn't change you for the world".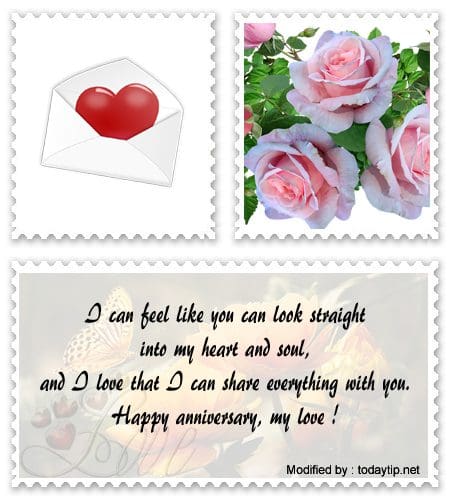 Most romantic quotes & cute ways to say
'I Love You' anniversary
:: "Happy anniversary to my special lady, the woman who stole my heart and to whom I gave it away willingly. I love you more than words can express".
:: "You help me appreciate the simplest things in life, to enjoy the little nuances of our daily life and to see life with a fresh set of eyes. Happy anniversary".
:: "I vow to love you now and for the rest of my days. Happy anniversary, my dear, may all your dreams come true".
Making our partner feel our love is easy, we just need to fin the right way to get to their hearts and a lovely anniversary message as the ones we just showed you might do the trick.
You can maybe include the nickname you use with them to make it extra special. See you soon with more free content and beautiful messages!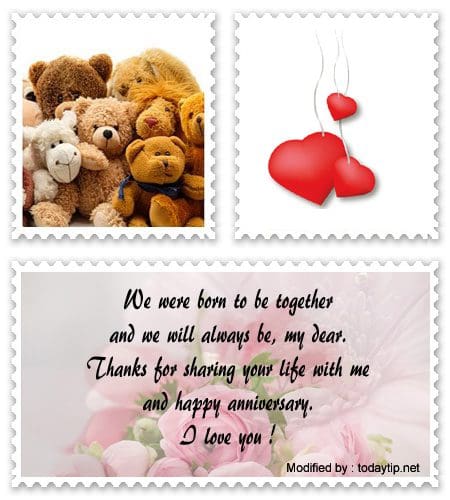 Image credits :
Happy anniversary cards : Original images courtesy of "Pixabay.com″/ ,modified by todaytip.net
If you liked this page you can help us by cliking on " I liked it" on facebook, twitter. Also if you want you can help this website by sending your originals  anniversary messages for your boyfriend , and will be published, others friends will thank you .