Searching for Merry Christmas wishes and short Christmas messages ? .What to write in a Christmas card ? .During Christmas Eve millions of people around the world meet with their loved ones to share beautiful Christmas dedications with the best of their feelings.
Living the magic of this time in the company of your partner is a truly unique experience, so why don't express what you feel through romantic Christmas messages to dedicate?
It will not be necessary to start writing tender Merry Christmas phrases for your partner, we have already done that task, you only need to bring out your best feelings.
:: "Do you know why this is going to be the most beautiful of all my Christmas? Because you are by my side and our hearts are full of love. "
:: "Since Christmas is full of love, happiness and illusions, I want to share it with you so our relationship would be even greater and eternal. Happy Holidays! "
:: "I really thank you very much for giving me one more Christmas Eve by your side. I wish you thousands of congratulations! "
:: "By your side, Christmas becomes more wonderful, the lights shine brighter and my heart is filled with more happiness and love. Happy Holidays, my darling! "
:: "I want to ask God to give us the opportunity to be together at Christmas and May every day of our lives be full of love and happiness."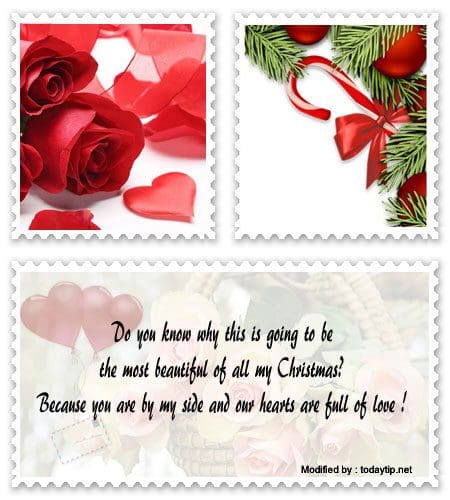 :: "Loving you for the rest of my life is what I promise you on this Christmas Eve. I love you so much my queen."
:: "I am full of gratitude because I have received many blessings and the most special of them is the love you give me every day. Merry Christmas! "
:: "My happiness was not complete, even when Christmas arrived, but with you by my side now I feel complete. My dear, Happy Holidays! "
:: "A perfect Christmas Eve awaits us because we will be together and we love each other with all the strength of our hearts. Congratulations on Christmas! "
:: "I send you a huge kiss, a big hug and my best wishes so that your dreams would come true. My love, have a wonderful Christmas! "
:: "I feel more excited than ever with the arrival of Christmas and I think the reason is only one: you are with me and I love you so much. "
:: "I wish that our hearts be filled with a strong desire to give the best of us and to love each other for the rest of our lives. I wish we have the most beautiful and happy Christmas. "
:: "With your love you embrace my heart and with your sweet words you fill me with enthusiasm. I wish you a very happy Christmas! "
:: "I wish you receive many beautiful gifts, from my side I will give you all my love and not only on Christmas Eve but every day of our lives. Merry Christmas! "
:: "All the beautiful things you have given me during these last months have made me very happy, so I will tell you that your love is the best gift I can ever have. Merry Christmas! "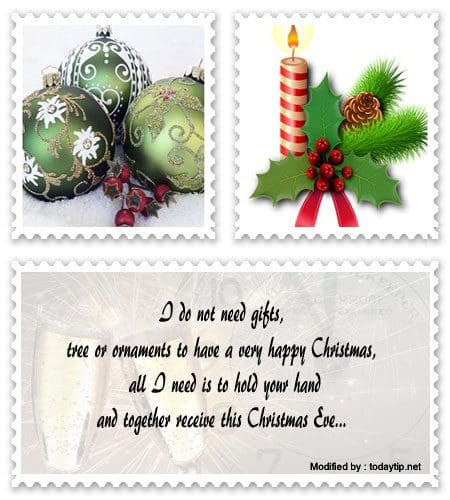 :: "In a huge box I will put thousands of kisses, hundreds of hugs, millions of caresses and all my love to give it to you this Christmas. Congratulations sweetie! "
:: "I am very happy because these Holidays I will have your beautiful smile, the brightness of your eyes and your precious heart that is worth more than gold. Merry Christmas! "
:: "You are my star that in the sky takes me along paths of happiness, hope and love. Let's celebrate a Merry Christmas! "
:: "This Christmas I want to promise you all my love and fill you with happiness forever. Merry Christmas my princess, thanks for being by my side! "
:: "The most beautiful thing about Christmas is to be able to enjoy every detail of this Holiday with you and share our love at every moment. Congratulations! "
:: "Tonight we celebrate that Jesus was born and I am sure that as a gift I will ask Him that our love would grow and last forever. Merry Christmas honey! "
:: "I do not need gifts, tree or ornaments to have a very happy Christmas, all I need is to hold your hand and together receive this Christmas Eve. "
:: "With you, Christmas becomes the happiest and sweetest time of the year. We will have a wonderful Christmas, my love! "
The material gifts are forgotten over time, but some tender and romantic Merry Christmas words remain in the heart forever. Not only during this time, but throughout the year, your better half deserves beautiful love words. Come back soon!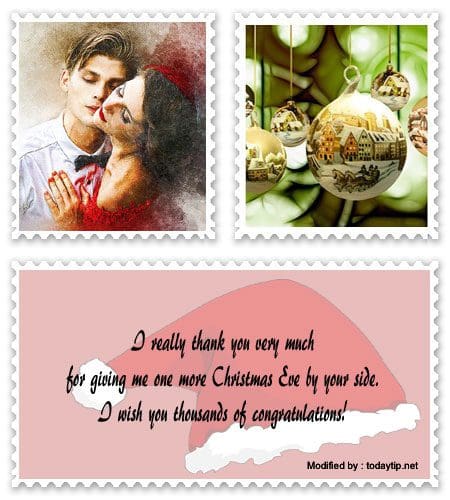 The most cutest and special moment to spend with our family and friends is, without doubts, Christmas.
On this day we celebrate the arrival of Jesus Christ, our Savior; and that's why we should be filled with harmony, both with ourselves and towards the others.
Christmas is a really special date, where people share together and we all join to celebrate the same thing, without prejudices or discriminations.
Therefore, something very important on this day is to send a greeting to those important people for us, no matter where they are.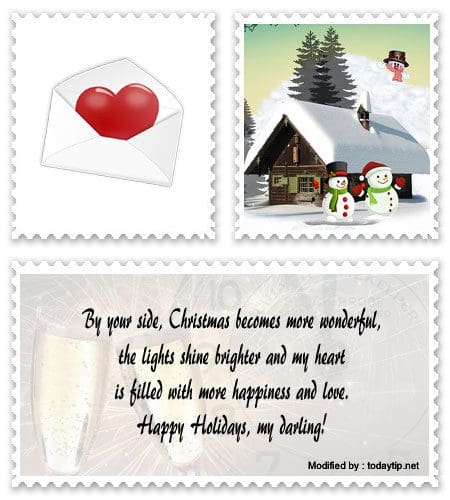 :: "Baby, on this special day, I wish to ask Jesus Christ to meet all our goals and to be together forever, sharing beautiful moments like this one and, above all, sharing all the love that we have for each other.
I hope you have a nice Christmas and that the coming year will be the best for you".
:: "These are my Christmas greetings for you my love. You know that you will always have my company and help whenever you need it the most.
I hope the future will give you all the best and that all your goals are met in this New Year. I love you".
:: "Dear son, I want to take advantage of this special day to send you my best vibes and wish you a nice Christmas. I really hope for you to achieve all your goals and always be happy.
Remember that your mom will always be by your side when you need her the most, to support you and to accompany you in the course of your life, just as I have done since the day that you were born.
I have no doubt that you will be someone very important and you will get what you want. I love you with all my heart my little boy, Merry Christmas".
:: "Dear friend, I know that we've gone through a number of difficulties, and that if our relationship was damaged it was by my fault for the mistakes that I had, which made you get apart from me.
Despite this, today, on this special day, I want to say that I'm sorry. I regret all the discomforts that I caused you and that is why I want to send you my best wishes on this special day and ask you to forgive me.
I hope you have a nice Christmas in company of your family and beloved ones".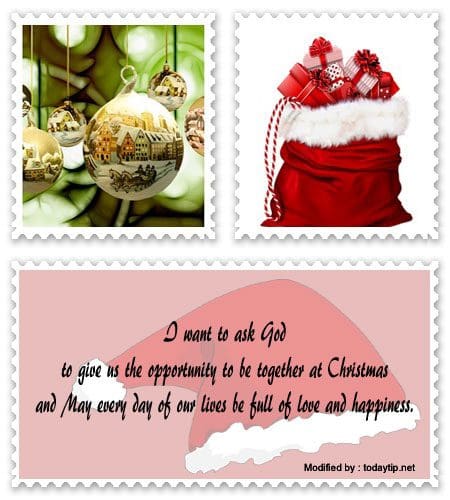 :: "Mommy, today, on this special day, I would like you to forgive me for my mistakes and wish that we can put aside everything that happened to be happy and spend a day full of peace and love.
I am sure that we will emerge from this situation and be as united as we were before. Have a Merry Christmas and I hope that the coming year will be the best for you."
:: "This Christmas I would like to send you a kiss that manages to convey all the affection that I have, as well as the best wishes I have for you and your family.
I hope you reach all your goals and have a nice Christmas in the company of your family. Merry Christmas".
:: "On this special date I would like to wish all my friends a nice Christmas and a happy New Year. I want you to remember that all the people that love each other should join in this date to listen to Christmas carols, share love and thank the arrival of Jesus Christ.
I hope that everyone spend a holiday full of peace and love. The most beautiful thing of this day is to see the families together and all the little ones opening their gifts, smiling and cheering up the night.
Have a nice Christmas surrounded by the people you love. My best wishes for all of you".
This so important date must be full of love, you will see that if you celebrate it this way you will receive the New Year in a very positive way and you will have very good news.
For you, who are reading these messages at this time, we wish you a nice holiday and a very Merry Christmas in the company of your loved ones.
Come back soon, we'll be waiting here with more messages and phrases for special moments like this. We hope you'll have happy holidays.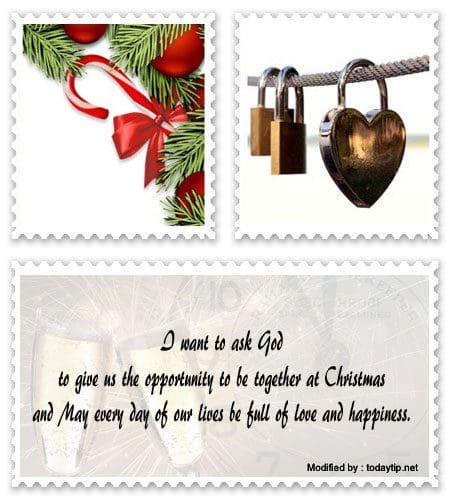 More related posts :
Best Christmas wishes for Whatsapp
Christian new year messages
Download best Christmas messages
Download New year christian messages
Happy new year messages for my girlfriend
Merry Christmas messages for Whatsapp
New year letters for my best friend
New year letters for my girlfriend
New year love wishes for my boyfriend
New year letters for my sweetheart
Credits :
Image courtesy of "Pixabay.com"/ Modified by : todaytip.net
 If you liked this page you can help us by giving us a "like" on facebook, twitter. Also if you want you can help this website by sending your originals phrases about christmas, and will be published, others friends will thank you.