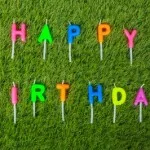 Cute birthday letter for my goddaughter
If we had the honour of being named godparents, either by a close friend, a brother who loves us very much or any other family member who sees in us someone who can be responsible for overseeing the spiritual welfare and the child entrusted to us, it is a true joy and blessing.
Being the godfather of our niece means to have the grace that God granted us to lead her on the path of good and be there for her at all times she needs guidance and a counselor throughout her life.
This state is so important in the life of anyone that surely your niece is going to feel much joy and happiness to receive a sincere note on the day of her birthday.
Here are two formats to choose from:
Sample 1 of a birthday letter for a goddaughter:
Beloved goddaughter:
I always remember with affection and gratitude the date you arrived in this world, because that day your parents communicated to me with great excitement their decision to choose me as your godmother, since I assumed my responsibility and I welcomed you as a daughter, I have not stopped thinking about you and you know how concerned I am for your welfare, especially every day in my prayers I ask God to guide your steps, you have the strength to become a woman capable of get over the challenges that life will make you meet .
I'm sure you've always listened to my advice. I appreciate the confidence that you deposited in me and the love you have always shown to me.
You do not know how happy you make me when I see you like a woman, responsible for herself, determined, mature and especially tender and grateful to your parents who have gave you all you needed.
Keep always being the great woman you are, beloved goddaughter, and today's in the day of your birthday I offer my sincere heart full of affection and love for you.
Be happy today and remember you are the immense desire of your godmother who loves you.
Congratulations on the day of your birth.
Sample 2 of a birthday letter for a goddaughter:
Dear goddaughter:
It has been many years since that memorable day you received the grace of faith through the sacrament of baptism.
I remember fondly the day that I had the honor of being your godmother and I could hold you in my arms while you were sobbing because you get your head wet with the holy water becoming into a child of God, you were a beautiful and strong baby dressed in white.
For me, you will always be someone special who I will keep in my mind and in my heart forever, you know I am your second mom, ready to support you in whatever you need, do not hesitate to get me for help, in anything you want. You will always find in me a friend willing to listen and comfort you in the difficult times of your life and also to enjoy and enjoy happy moments.
My greatest desire for you is to always be happy and more likely to come many years in which together we can enjoy and celebrate your birthday.
I wish for you to have a happy day today and every day of your life.
Sincere wishes from your godmother who adores you.
We hope these letters would be useful as a model and can send to your goddaughter a cute message. We promise she will enjoy it.
Image courtesy of "FrameAngel" / FreeDigitalPhotos.net
If you liked this page you can help us by giving us a "like" on facebook, G+, twitter, others friends will thank you .
Tags:
learn how to write a birthday letter, good birthday letters samples, free birthday letters models, excellent birthday letters, tips to write a birthday letter, free advices to write a birthday letter for my goddaughter