When people are in love, they find many ways of letting their loved ones know how much love they feel.
Everything works to let their love show: message, notes, letters, poems, music.
You might be looking for a way to tell your boyfriend all your feelings for him.Here you will find several models of sweet ideal letters to write to your boyfriend so he learns about your feelings.
Sweet letter for your boyfriend model n° 1:
To : Felipe
My darling:
You are in my mind now and I want to write it down. When I look at your picture, I feel my heart beat faster and I cannot describe the happiness that invades me.
When I feel your gaze upon my eyes and your hand holding mine, a wonderful feeling wraps me up. Your love has turned my life around. I know tomorrow will be better than today because of you.
You have given a real reason to my life, and you are my owner now. When we hold and kiss each other, I would say there is nothing better.
Trust me when I say you are my ideal mate, I say it from the heart.
My life revolves around you and I cannot conceive living without you. You are the most wonderful thing I have lived. All my love for you, soul and heart.
Yours forever.
Cecilia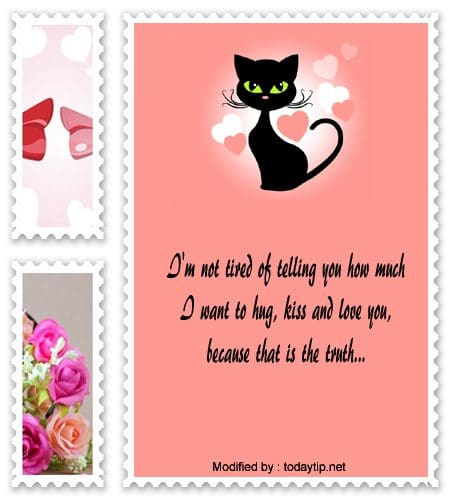 Sweet letter for your boyfriend

model n° 2:
To : My reason for living
Hello, my love. I hope you perceive all the happiness I transmit to you when I write this letter when you read it, and I hope it makes you happy.
I could not finish this letter if I described all my love for you. Words would not be enough. Just thinking of you makes me write this.
I know I will never love anybody like I love you. I would do anything for you and I only want to spend time with you. You are my reason for living and my great love.
My most wonderful experience is when you kiss and hold me because I feel so love and taken care of. Expressing our love with sweet words will make it grow even more.
You have my word that I had never felt anything like this for anybody before, and I am very happy that you are my boyfriend. I hope this letter makes you understand how much I love you and think of you.
Carolina
Sweet letter for your boyfriend model n° 3:
To : My love
Hello my love. It is important you read this letter even if you do not love reading, because the reason to write it will convince you of many things.
Knowing you are with me makes my life a dream come true. Remembering our first kiss is remembering since when my heart beats for you.
Remembering when we first held hands is remembering the second our souls became one, and seeing you is feeling everything is fine. My love, I share all my feelings with you.
I know there are better girls than me, but I am sure you are the best boyfriend of all. I love you.
Carmen
We believe these sweet letters can help you share your feelings with your boyfriend. We wish you like them.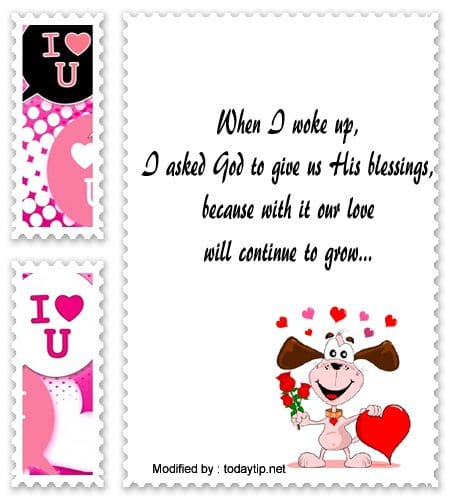 Currently, it is quite strange to run into someone who does not have a phone or any sort of device that allows them to be connected around the clock, either to the Internet or with friends, acquaintances or relatives unless they have run out of battery, of course.
The good thing about these modern devices, which not only serve to call, as used they used to, but now we can also send pictures, videos, audio messages and thousands of other things.
On the other hand, we have relationships and the fact that like it or not have evolved in tandem with technology and now many of these relationships have mobile devices as the basis of the relationship.
Taking advantage of the versatility of this medium, we invite you to discover a series of phrases that you can share with your loved one through your mobile phone and thus ensure you stay in his thoughts whenever you want to.
You have nothing to be stressed for, because they are free of charge. Just take your pick and send it, nothing more.
Download best love texts for my boyfriend :
:: "I would like to say that, since I met you, I have fallen for your feet, with no chance to break free of the spell of your eyes or the smell of your hair. You are everything to me".
Category :Love messages for my boyfriend
:: "All I am belongs to you, there is nothing more to say about it, because without you I am nothing, without you there is no life, without you I would not want to live".
Category :Love messages for my boyfriend
:: "When I feel you kissing me I get goose bumps, which raise me in the wind. With you, there is no time nor space, just you and me, nothing more. You are amazing, thank you for everything".
Category :Love messages for my boyfriend
:: "Over time, what I feel for you has grown non-stop".
Category :Love messages for my boyfriend
:: "Thank you for giving so much color to my days, because before you arrived, there was no music, no love, nor anything cute as there now is".
Category :Love messages for my boyfriend
:: "How wonderful it is close my eyes and see how your face gets drawn in my eyelids. It is amazing to see you clearly, even when you are not beside me. I think that it is because the memory of you is tattooed on my heart. I hope it stays like that forever, because you are everything to me".
Category :Love messages for my boyfriend
:: "I think we can get ahead in life, at any time and in any situation, because we are a couple who knows what they want and how to get it. I adore you, honey".
Category :Love messages for my boyfriend
:: "By your side my clock stops, because the minutes do not exist when I am with you".
Category :Love messages for my boyfriend
:: "When I woke up, I asked God to give us His blessings, because with it our love will continue to grow".
Category :Love messages for my boyfriend
:: "I'm not tired of telling you how much I want to hug, kiss and love you, because that is the truth".
Category :Love messages for my boyfriend
:: "There is no one like you, that I have very clear in my head and in my heart. Unique and unrepeatable, that is what you are".
Category :Love messages for my boyfriend
:: "We were born predestined to meet and the life we lead is now just part of the destination, a beautiful destination".
Category :Love messages for my boyfriend
:: "I would love to shout from the rooftops that the love I feel for you is real, because I feel it at such tremendous intensity, one you could ever imagine".
Category :Love messages for my boyfriend
:: "I have heard that there is no madness unless it is shared, and I think we win by being the craziest, but the craziest about each other".
Category :Love messages for my boyfriend
:: "I have said it so many times before that maybe you will not be surprised anymore, but I would give up my life for you, again and again".
Category :Love messages for my boyfriend
How nice is love when shared by a couple who loves, respects, trusts and is generous with the other. Let us celebrate our relationship and our partner know everything we feel for him or her.
It will definitely get a beautiful smile out of them, the most sincere one. Come back anytime and remember that we are updating the content we offer almost daily. See you soon. Good luck!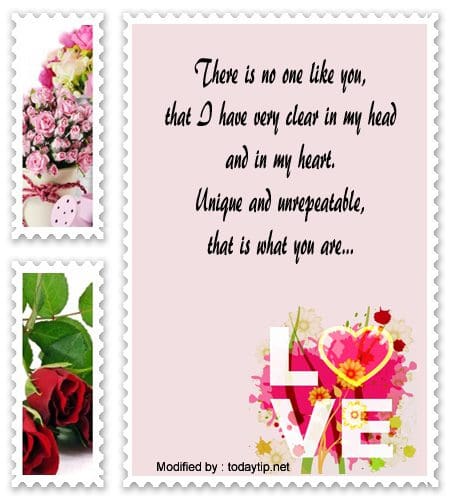 More related posts :
Anniversary messages for my boyfriend
Beautiful thoughts for Valentine's day
Good night love messages
Happy Valentine's day wishes for my husband
I'am sorry love letters
I'm sorry quotes for him
Love messages for my boyfriend
Love messages for my husband
Love text messages
Romantic anniversary messages
Romantic messages for him who is going away
Romantic messages for my boyfriend
Valentine's day sample letters
Images credits :
Original images courtesy of "digitalart,IceHawk33,Stuart Miles,IamTaew,Feelart?/ FreeDigitalPhotos.net ,modified por todaytip.net 
Image: nixxphotography / FreeDigitalPhotos.net
Tags:
download messages of love, beautiful messages of love, love, love pretty phrases download, download messages of love, phrases, sentences and images, words of love, download beautiful love messages, picture messages, love text messages, words love, love sms,romantic love messages for her

If you liked this page you can help us by giving us a "like" on facebook, G+, twitter. Also if you want you can help this website by sending your love texts, and will be published, others friends will thank you.