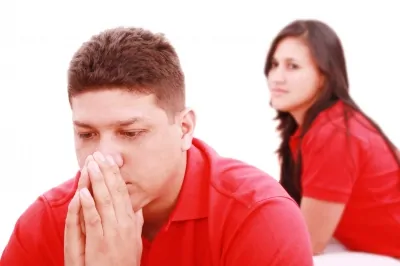 Steps to end a relationship
A couple's relationship, is one of the most difficult relationships, because, in order to maintain it, it requires not only love between the two members but also a lot of patience, perseverance and communication and when, in spite of all these ingredients we cannot build a relationship properly, maybe it is because, suddenly, there are no targets in common or because one of them has found another person who wakes up strong emotions in them, honesty and truth must be the tools used to end up the relationship in the best possible way, because nobody says that we must end it the bad way, as irreconcilable enemies, but we must look to finish the relationship without anyone getting hurt.
Human beings, men or women, have many ways to fall in love with each other, either by using the words, songs, flowers, gifts, chocolates, poetry or poems, and, once we have it, we use our physical demeanor and do not give up in our efforts when we feel that love is in every moment of our life and only just when we got the coveted "i do" or "if I do" to the famous question will you be my girlfriend or do you want to be my love or do you want to be my wife?, but when we feel that the love affair that we got with great effort is not going anywhere, then we only have one way to end a relationship, and it is fighting.
It seems incredible that what we get to build with love, patience and persistence, can collapse with a misunderstood sentence, with an infidelity, with a fight, summing it up, with an act of violence. It is amazing how a lot of love can vanish in a moment of verbal, physical or love irrationality, can take a whole relationship to waste, so we believe we should show and teach you how to end up a relationship in the most healthy way and, also, to avoid getting hurt in the process and keeping you from harming the other person involved in the couple, while preserving the good memories together forever, which in most cases are the children, the main victims when a relationship does not end well.
It is fundamental in any couple and a very good sign of maturity, is communication. It cannot be "left for later", whenever there might be problems in the relationship, it is necessary to "take the bull by the horns", which means to act quickly and talk about the issues that might be damaging the relationship, tell them about our points of view of what we think is wrong with the relationship, with which we can if the relationship does not work tell them directly, that we can no longer continue and that it is necessary to separate for a while or permanently, allowing the couple to maintain a good friendship after the relationship.
Modern times have shown us that men and women not only have the same rights claimed by the latter in their campaigns for equal rights, but they also have the same attitude when it comes to love a third person, so if we believe that we can love or fall in love with someone other than our partner, it is better to end the relationship and talk about it openly to our partner, perhaps in the near future we can even get back together with them or just stay as friends.
Summing it up, when we form a couple with someone, we should always be aware of the fact that we are going to have to work really hard to maintain that love relationship, otherwise, it is going to be sooner than later when it ends up finishing, most of the times ending up like rivals or, even worse, irreconcilable enemies, not only in personal aspects, but also in court matters, if the product of that love is children, who will suffer from their parents inability of setting closure to their affairs.
Image: FreeDigitalPhotos.net
Tags:
how to end a relationship, how to finish a relationship, excellent tips for finishing a relationship, excellent tips for ending a relationship, ways of finishing a relationship, ways of ending a relationship, tips for finishing a relationship, tips for ending a relationship, very good tips for finishing a relationship, very good tips for ending a relationship