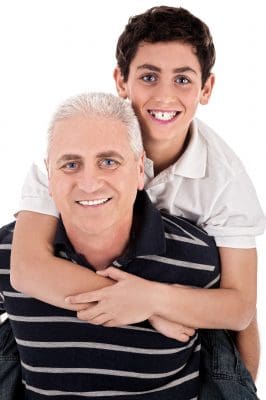 Beautiful letters for my grandfather on father's day
People who appreciate us as much as if they were our own parents are grandparents. If you are blessed to have a grandfather with you, praise him for father's day and let him know all the love you have for him.
Ideally, it would be perfect if you personally go to his house and give him a big hug, but if this is impossible because of the distance or time, then we recommend that you send a message or a letter by Father's Day.
In this letter you would express your grandfather how wonderful and important he is in your life and the great admiration and esteem you have for him. Here, we will give you examples of letters to your grandfather for Father's Day.
Example 1 of a nice letter for my grandfather on father's day:
From: Fabian
To: My grandfather
Beloved grandfather, right now I am at a great distance from all the family I love, but it would not make me forget you and I express my feelings through this letter.
I want to say that I have lived beautiful moments with your good company and that I consider you as a father. I remember when I was a kid always you were always telling me stories when I had to sleep and I also remember your constant visits to my home.
I remember every gift you gave me for my birthday and your outfit of Santa Claus for Christmas along with the gift that made my dreams came true. Those days will never return but I assure you, they will always be present in my heart, you are a very special person and that is why I give you all my heart.
Dad and I are truly blessed because you are part of our family. I wish you have a beautiful day in the company of your children and grandchildren, and I also wish you receive many blessings.
Have a happy father's day!
Example 2 of a nice letter for my grandfather on father's day:
From: Irina
To: My Beloved grandfather
Grandpa, I dedicate these lines since today is Father's Day and although we are far away I want you to know how much I remember and appreciate you.
You really are a formidable man who has always been in the most important moments of my life and whom I could always rely on, your experiences and expertise have made you a wise man who gives the best advice to each of the family members .
I remember from when I was just a child and we played in your house. I remember when I was 15 and you were there congratulating me and even when I got married I was blessed to have you by my side. You've always proven that you're an honest man, my brothers and I love you dear grandfather.
Thanks for helping me to be brave, for teaching me how valuable a smile and for helping me correct my mistakes. Although the years pass, you will always be a special man in my life. Have a beautiful day father's in the company of the whole family.
Image courtesy of " photostock" / FreeDigitalPhotos.net
Tags:
learn how to write a father's day letter for my grandfather, good example of a father's day letter for my grandfather, beautiful example of a father's day letter for my grandfather, writing a father's day letter for my grandfather, free tips to write a father's day letter for my grandfather, tips to write a father's day letter for my grandfather, free example of a father's day letter for my grandfather, wonderful model of a father's day letter for my grandfather, free advices to write a father's day letter for my grandfather, advices to write a father's day letter for my grandfather