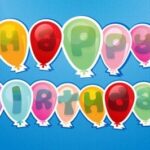 Cute birthday messages for my friend
Every time a friend's birthday arrives, it is like as if it were our own because you like your friend so much that she is almost a member of your own family since you feel so identified with her and you can be yourself around her and know her innermost secrets.
For sure you have the perfect gift for her, however you must not forget to write something nice to place in the card accompanying whatever you are going to give her. That is why lines below we present you a series of messages that you can write inside the card that is going with the gift, or maybe you can send her this small dedication by a text message or even post it on her Facebook wall. You will see your friend will feel much joy in her heart to read how you feel about her.
Free list of birthday messages for my friend:
– "Happy day dear friend. I hope you like the gift I chose for you but it is nothing compared to the as beautiful friendship you offer me every day and I want us to keep it until we are old ladies. "
Category :birthday messages
– "I hope that my gift is as good as you dear friend. I hope that you make the most of your birthday and I am very happy to have met you and have you in my life. "
Category :birthday messages
– "Not even the most wonderful gift can express all this love I have for you. Still I give you my word and my friendship forever. You are like a sister to me, I love you. "
Category :birthday messages
– "I never had sisters, only brothers, so you are like the sister I never had between all my brothers, you are equal to them. You always offered me a clear friendship that I value today as it is very hard to find someone like you. I wish you a Happy Birthday and remember that I am here to help you in whatever you need. "
Category :birthday messages
– "I am so grateful to God for having placed you in my way. For me it is a joy to have a friend like you. I know you are not my really sister, however I feel that we had the same blood. I hope that today and always your life is filled with joy. Happy day. "
Category :birthday messages
– "A person like you seems to be like a messenger of the Lord. You are perfect and a great friend. Happy day dear friend, I want you to fulfill all the dreams you have in your life. "
Category :birthday messages
– "We met at the perfect time, as we were both going through very difficult times in our lives, and our friendship helped us to become stronger every day and we encouraged each other every time one of us fell. So I love you and I carry you in my heart. Happy Birthday and may there be many more to come. "
Category :birthday messages
– "Sometimes I think we met in another world because you do not know fond I am of you. On this day you were born to brighten the lives of each of us. I hope we continue being together so you can rub your joy with me. Happy day. "
Category :birthday messages
– "If I were given the opportunity to choose a friend, to me it could only be you, seriously. You have my full confidence and I plan on keeping our friendship for life. Happy Birthday. "
Category :birthday messages
– "Today you celebrate one more year and also we are united as sisters another year. I want you to be very happy today and to never forget that I love you and that despite everything that happens we will still be friends.
Category :birthday messages
We hope you enjoyed these greeting messages for your best friend's birthday. Don't forget to send them, you will see how happy she will get and feel how much you care about her.
Image courtesy of "digitalart" / FreeDigitalPhotos.net
If you liked this page you can help us by giving us a "like" on facebook, G+, twitter. Also if you want you can help this website by sending your originals Sms, text, text messages, quotes, birthday messages, and will be published, others friends will thank you .
Tags:
birthday messages for friends, birthday phrases for friends, birthday sms for friends, birthday text messages for friends, birthday texts for friends, birthday thoughts for friends, birthday verses for friends, birthday poems for friends