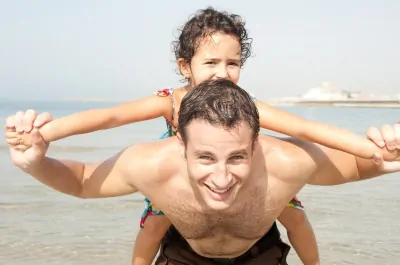 Nice letter to dad for his birthday
When a man becomes a father, that is one of the nicest experiences of his life, everything changes, because they will be no longer just him and his wife.
Now, a new life exists: their baby, to whom they should give much love. If your husband's birthday is near here are some ideas for you can use that day, in this way you would include the new baby in the surprise. Here are some examples of letters that you can send to your husband like if your baby were speaking, which obviously are words of love. Choose any of these options and make your husband happy with this gift.
Example 1 of a letter to dad for his birthday:
From: Your little son
To: My lovely daddy
Hello dear daddy,
Mom told me that today is your birthday and she helped me make this little letter in which I want to wish you a happy day because as you already know I cannot speak yet. I want you to know that for me you are the best dad in the world, and I want to thank you for all the love you give to me, you do not imagine all the things I want to tell you about my feelings for you, but for now I just make sounds so, I am not able to do that.
I know that we will have a nice day because we will be together and I saw my mom making you a cake with love. I cannot wait to grow up because I want to give you a big kiss, a hug and share many things with you, but for now I will look at you and give you my smile. Do not forget to see me before going bed because I will be waiting for my goodnight kiss.
Happy birthday my daddy, with all my little heart
Your son
Example 2 of a letter to dad for his birthday:
From: The happiest baby
To: A spectacular dad
Dear Daddy,
I send this little letter because I want to wish you a happy birthday, today you deserve all the love of the world because you are a good person, and best of all, you are my dad. I know that I cry a lot when you go out, and you are sad to leave me crying. Sometimes I am very sorry that you have to leave, but I know you do so because you have to go to work, and you work hard. My mom has already explained it to me, I understand it so I apologize and I promise I will not cry in the future.
I want to say I love you with all my heart and I am very happy when you sing, when you hold me, or when you get home and give me a big kiss. I am a very lucky baby because I have very loving father. I hope that today that is your birthday you would spent a very nice with mom and me. She was the one who helped me make my little letter. When you come to wish me good night, please give me a big hug. I love you so much.
I love you with all my little soul,
Your baby
Do not forget that this is a very original gift which will make your husband happy, He will thank you very much and will not ever forget it.
Image: FreeDigitalPhotos.net
Tags:
messages for dad on his birthday, phrases for dad on his birthday, poems for dad on his birthday, quotations for dad on his birthday, sms for dad on his birthday, text messages for dad on his birthday, texts for dad on his birthday, letters for dad on his birthday, verses for dad on his birthday, wordings for dad on his birthday