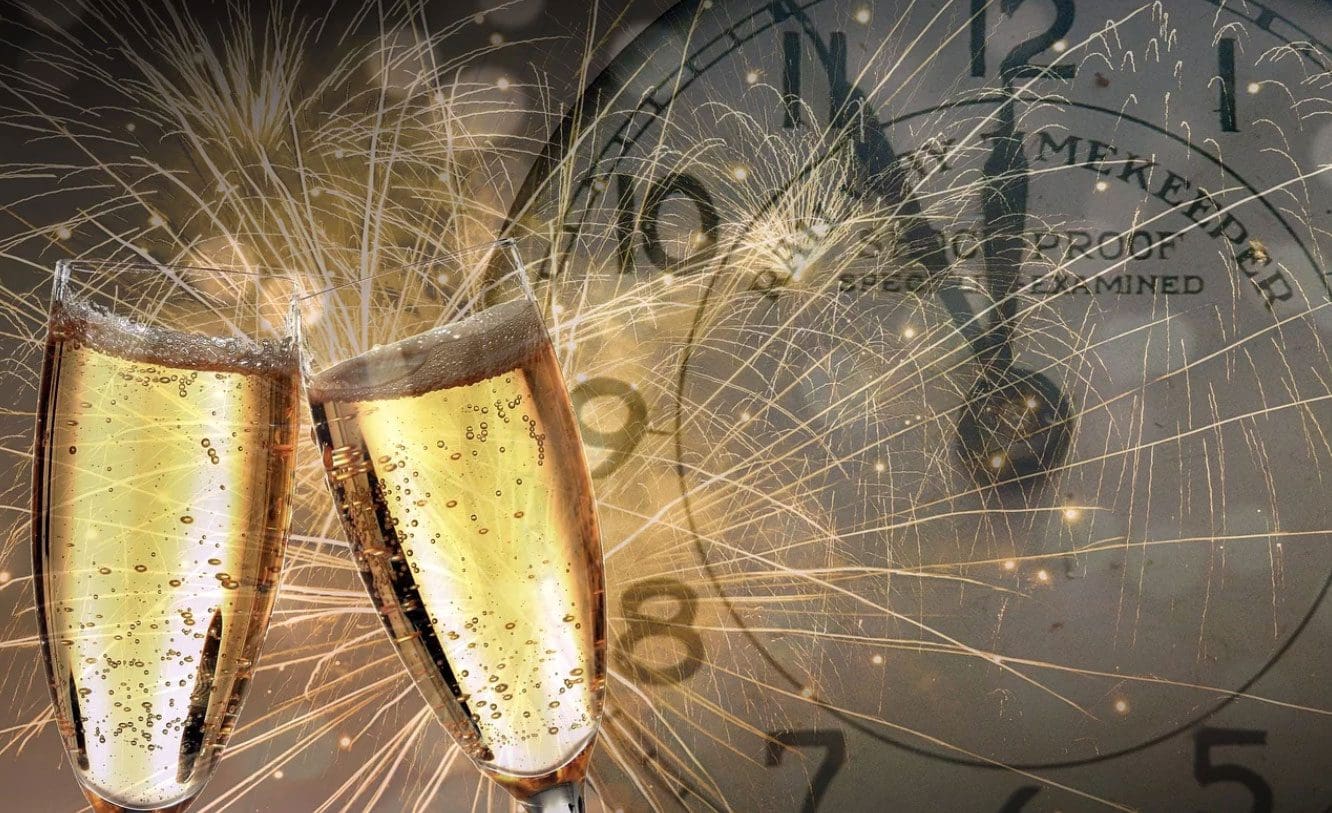 How do you wish someone a Happy New Year? ,What to write in a new year card ? . We are one step away from closing the year and it already feels like the celebration mood is approaching. The end of the year is definitely a time to share with those we love the most.
That is why it can be a good idea to take the time to communicate all our feelings to that special person through a beautiful New Year's Eve love phrase like the ones you will find below.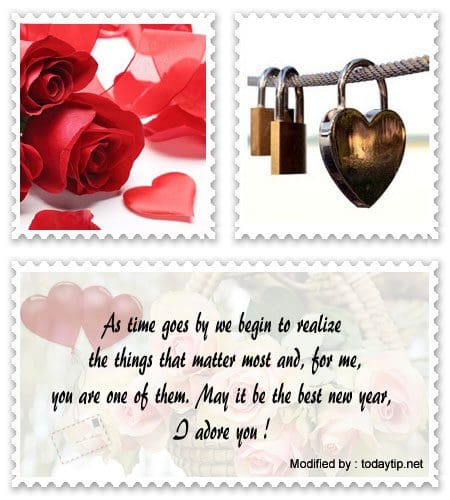 :: "We have reached the end of the year and I can only thank you for all that I have experienced by your side, I adore you".
:: "Happy New Year, my love! We made it! We finish one more year full of lessons and growth".
:: "I love you like you have no idea and I can't wait to spend every day of the next year by your side".
:: "I see you passing by and I know I made the right decision, because being with you is a dream come true. Happy New Year, my life!".
:: "I've known you all my life and you keep surprising me with your love and affection. You are unique, my love. I wish you the best New Year in the world".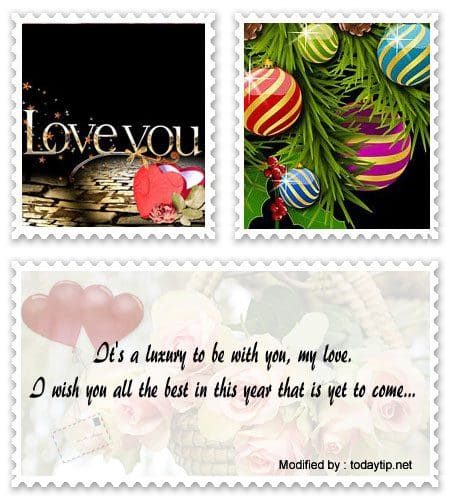 :: "Happy New Year! Let's toast to the life we share together and dream of the future that lies ahead. I adore you!".
:: "To deserve you, I was willing to do the impossible. Now that we're together, I won't let our love fade away. Happy New Year, my life!".
:: "It's a luxury to be with you, my love. I wish you all the best in this year that is yet to come".
:: "I toast to us, because together we will sweep away everything that comes this year. I love you!".
:: "Happy New Year, my love! Get ready for the party that's coming up, because today we're going to party like we mean it".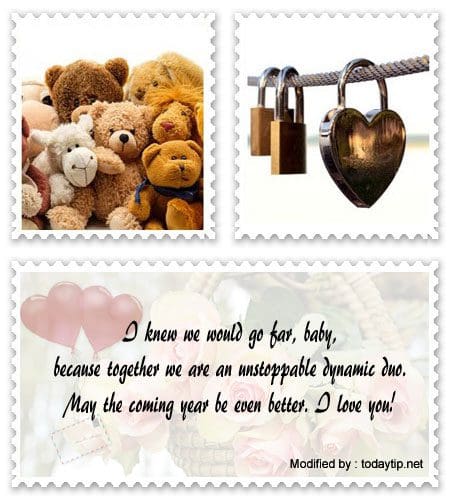 :: "I want this New Year to be full of challenges and adventures, because by your side I feel capable of anything. Happy New Year, my queen!".
:: "It's almost twelve o'clock and I can't take my eyes off you, you're everything I've always dreamed of finding in a woman. Thank you for everything and happy New Year, my love".
:: "You are the muse that inspires my most ambitious projects, the one that gives me strength to fight for my dreams. You are everything to me. Happy New Year!".
:: "I knew we would go far, baby, because together we are an unstoppable dynamic duo. May the coming year be even better. I love you!".
:: "As time goes by we begin to realize the things that matter most and, for me, you are one of them. May it be the best new year, I adore you".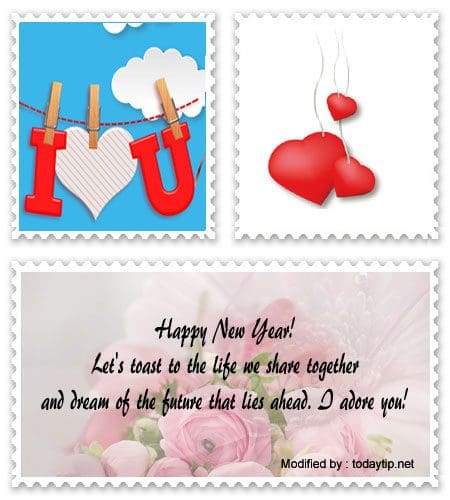 :: "I don't need anything when you're by my side. You are the air that fills my lungs and the love that feeds my heart. Happy New Year, my love".
:: "Let's sing and dance because the year is ending and it's time to celebrate. I love you!".
:: "With you I feel that I can fly and that I am capable of everything. Thank you for believing in me and happy New Year, my love".
:: "I write poetry and sing songs all day long, and you are the star of them all. Let's keep it up next year and we'll conquer the world together. Love you!".
:: "Happy New Year to the most special woman of all, the one who conquered my heart".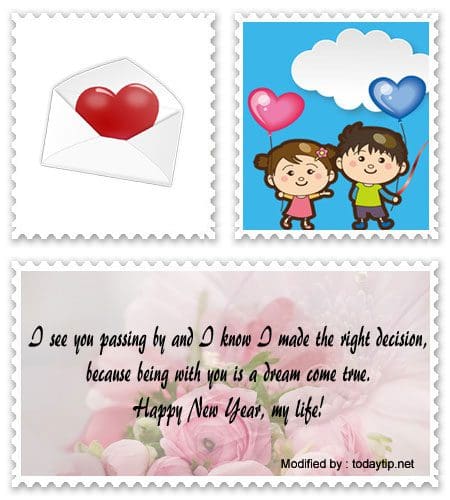 :: "I see you walking with unique grace, as if the world were at your feet. And it is, baby, because like you, there is no other. Have a beautiful New Year's Eve".
:: "Let's try to close the year as we started it: full of good feelings and love. You're the queen of my life, happy New Year!".
:: "I want to laugh and sing and dance, and I want all that to be with you, baby. Let's toast to our love and leave behind a beautiful year that's fading away to give way to another one even better".
Choose the phrase that best suits your personality and share it with your beloved, be sure you will bring out a big smile in her and fill her heart with good feelings.
Use these beautiful free messages and don't forget that we are always waiting for you with more content.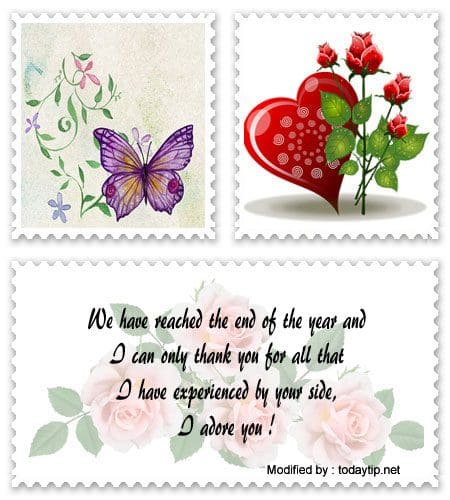 How do you wish someone a Happy New Year ?.Thinking about New Year's Eve is something that makes us feel a great joy and an incomparable enthusiasm, which is why when we welcome a New Year, we do it by the side of the people we love most and we share with them our best wishes.
On this occasion we offer you a few sample letters you can use to send to your girlfriend for this New Year's Eve in order to express your best wishes and your greatest love to her.
Happy New Year's Eve, baby!
I am very excited because another year is about to start and I have the joy of being with you, enjoying your love and your company.
We have enjoyed wonderful experiences together throughout the last 12 months and those moments have been so special that they will remain engraved in the depths of my heart forever.
The joy I felt was because you were by my side me at all times and together we managed to overcome all the challenges that arose, besides, I am confident that we will continue to be as united as ever on the next 365 days.
We have many dreams that we will gradually accomplish because nothing is impossible when there is love and I have to confess that you are my greatest motivation to give my best every single day.
With you I am able to accomplish everything I have in mind, I fear nothing because when I am with you I feel like as if I was invincible.
I never want you to have doubts about the love I feel for you, I promise that I will try my best to prove to you at all times, so we can be happier than ever. I wish you all the best for the coming year.
Reuben.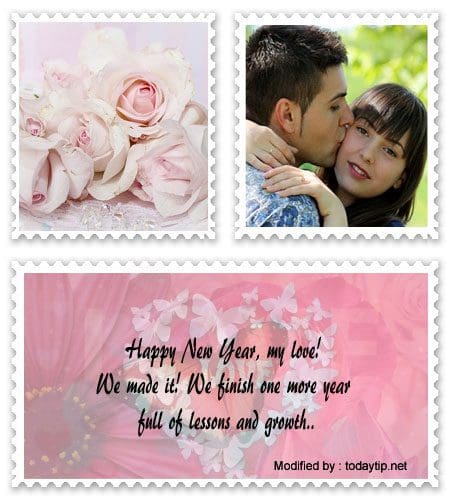 My little piece of heaven, how are you?
I send you this greeting because I want to wish you all the happiness in the world for this New Year's Eve and also take this opportunity to talk to you about my feelings.
I think that words will never be enough because my love for you is more intense than anything I have ever felt in my life and what I had imagined it would be like.
I hope that in the coming year everything is happiness in your life, that you always have a reason to smile and that you accomplish all that you want.
You are a very good person and I am sure God will bless you, so never doubt all the positive things that will come your way.
You are the cutest girl of all and I am happy to have your love and to be able to enjoy every day by your side. It is really a privilege to be the owner of your heart and that is why I want to promise you that this year my feelings for you will not change.
I wish you all the happiness in world for this New Year, and I want you to always look forward with a positive mind and not let your fears be greater than your desire to succeed. I love you and I want to be with you forever.
Edward.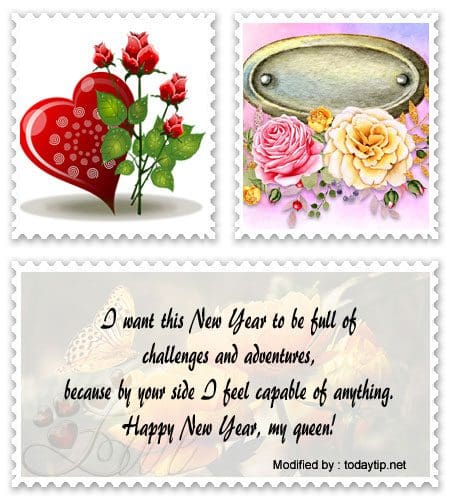 My life,
Although I will not be by your side to welcome this New Year's Eve, I want to tell you that my thoughts will be with you and when midnight comes, I will imagine that we are together, side by side.

You are an independent, brave and determined woman, that is why I know that you will achieve all the goals you have for this year and that nothing and no one will be able to stop you from reaching the pinnacle of success.
I will always be with you to help you out in everything I can and motivate you, in case you need it, for you are the love of my life and your happiness is also mine, so do not be afraid and remember that unity makes us stronger.
I love you and I never want you to forget that; many times I have done the impossible for you to realize that the love I feel for you is true and sincere. You know? One of my goals for this New Year is to continue giving you all my love and attention because I want to be the person who will always be there for you.
I wish you all the best for this year, my lovely bride, I hope you are blessed and that you accomplish many things in life.
Nicholas.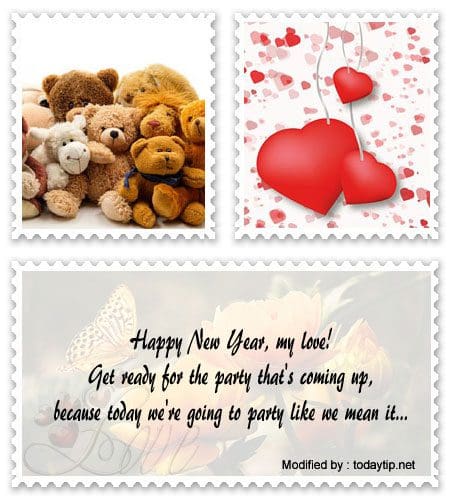 Happy New Year, sweetie.
I have the opportunity to welcome another year by your side and I am very fortunate because I am able to enjoy your company.
I feel an enormous gratitude to the Lord for allowing me to have your love and for being able to share special moments with you that strengthen our relationship.
Throughout this year we have lived wonderful experiences, on some locations we shed tears, but on others we were incredibly happy. Nonetheless, the important thing is that we stay together and that we were able to demonstrate that our love is true.
I am very excited at the thought of all the things that await for us on the next 12 months, I do not know whether they will be good or bad things, all I know is that if I have your love I will be able to overcome any challenge, as what I want most is for us to continue writing more chapters of our wonderful love story.
My darling, I wish you all the happiness in the world. I hope this is one of the best years of your life and that you get to overcome all the difficulties you have and accomplish all of your dreams.
Never forget that I will always be by your side giving you all my love and support, as I want us to achieve our goals and that success is with us in every aspect of our lives.
Lots of love,
Fabian.
To my greatest love,
Life has given me many great blessings, but none of them compares to the fact of having met you and being able to enjoy your love, which is why I send you this letter to express all my love and my best wishes for New Year's Eve.
My dear princess, this year has been very good for both of us, as we have achieved many of our goals and we have shared our great love and been very happy. For all of this and much more, I want to thank you with all my heart.
I am sure that the year that is about to begin will be the best of our lives, so I want to promise you that I will give my best to win over your heart even more, to make you happy at all times and to accomplish our greatest desires.
I love you like I have never loved anybody before because with you I have discovered what love really means, and, as if that were not enough, I have found greatest happiness of my life by your side.
My darling, my heart is yours to keep and with all my love and I wish you much happiness in the coming year.
Alfred.
Many blessings for the New Year, my love.
I feel so happy, so joyful and so pleased with life because I have the love of a unique woman, a girl that dazzles with her beauty, but who has a heart that shines like gold because it has the most beautiful feelings.
You have no idea how much I love you and so I want to thank you for each and every one of the incredible moments we live have together throughout the last year.
I want you to know that those moments are engraved in my heart and that remembering them makes me live them all over again and experience a happiness that knows no limits.
At the very beginning of this year I want to renew all the promises that I have with you because all I want is to see you happy and give you everything you need in order to accomplish all the beautiful dreams you have. You are my one and only love and together we will enjoy the best year of our lives.
George.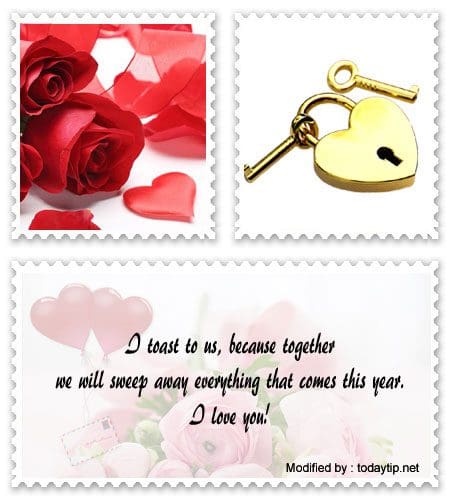 My angel of love.
When I am by your side I feel as if I were in the middle of a beautiful dream in which God sent one of his most beautiful angels into this world to teach me what it means to love and that is because loving you has been the best thing that has happened to me in my life.
This has been the best year of my life because first we became friends and with time we fell in love, which changed my life forever.
I thank you for filling my life with joy, for pulling me out of a world of darkness and sadness and taking me into a world in which light shines and happiness is everywhere.
I want this New Year to be wonderful for both of us, that we stay together discovering all the wonderful things this world offers us and that we show each other how great our love is, strengthening our relationship and our love for the rest of our lives.
I love you and I will keep loving you even more through eternity. I wish you a Happy New Year.
John
With any of these texts you will not only be able to express your girlfriend the great love you feel for her, but you can also share with her your best wishes to welcome this new year amid great happiness.
Do not forget to use make any of the texts your own and use your creativity when you give it to your girlfriend, as it will for sure reach her heart.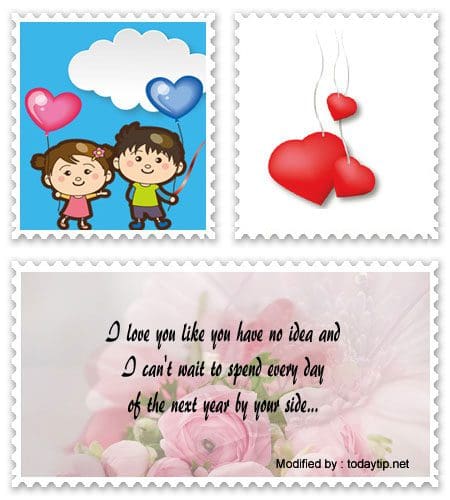 More related posts :
Christian new year messages
Happy new year messages for my girlfriend
New year letters for my girlfriend
New year letters for my best friend
New year messages for my boyfriend
Image courtesy of "Pixabay.com" 
Tags:
beautiful New Year letters for my girlfriend, download beautiful New Year letters for my girlfriend, share New Year letters for your girlfriend, original New Year letters for a girlfriend, free New Year letters for a girlfriend, send samples of New Year letters for my girlfriend
If you liked this page you can help us by giving us a "like" on facebook, twitter. Also if you want you can help this website by sending your New Year letters for girlfriend , and will be published, others friends will thank you .
as13jk04kl20rt