Searching for best birthday speechs for friends ? Our birthday is one of the most important events of the year for us and that is why we like to have a nice celebration to receive it.
Imagine this: it is going to be your birthday and you are very happy, so it occurred to you to arrange a meeting with your loved ones.
The guests have already arrived, so you all celebrated in style, you ate delicious food and drank amazing concoctions, everything is perfectly decorated and the party is over.
Although everything was wonderful, it seems that you were missing something and you do not know why. Well we do know what was missing you did not gave a speech thanking everyone for coming to your birthday party and tell them about how happy you felt for having them.
If you do so, your party will be perfect. If you think that it's a good idea, but you cannot think of what to say, here are some examples that you can use to help you and your party to be in the memory of everyone for a long time.
:: "I would like everyone to know how grateful I am to be with you tonight, but above all I want to thank the Lord who has given me the opportunity to celebrate every day another year of life that I can share with my loved ones, you people.
I would also like to thank you for this nice party where I see a lot of affection and love, I love that you are here with me and I feel so loved right now.
Again I would like to thank our Lord for being alive and all those present for their company and good wishes. Thanks to you is that I to keep moving, because you give me the motivation I need to be happy and want to do things.
I hope to be with you much longer and enjoy the party, because it is for you. May the Lord give you His blessings always and forever."
Category: birthday speeches
:: "I want to thank you for being here with me, sharing the joy that only a day like this can give. I hope you all feel welcomed and are as happy as I am to spend an evening like no other.
I am immensely happy to see everyone and of knowing that a day as my birthday has the ability to gather you all and make me so happy. I do not want to be the center of attention, let's all be it because this party is also yours.
I would to ask you to have a great time; I hope that you liked everything and that you are feeling as happy as I am feeling right now, this night has been awesome and unforgettable."
Category: birthday speeches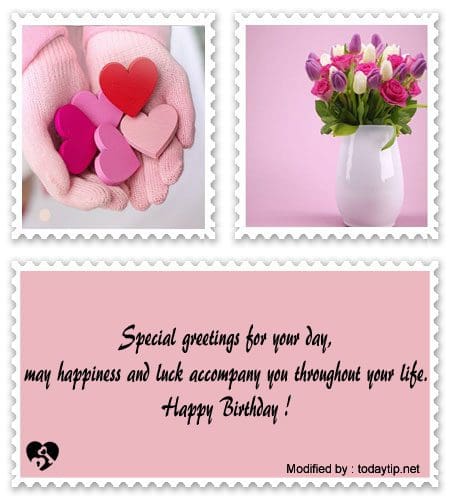 :: "The joy I feel is overwhelming because I am very surprised to have found you all celebrating my birthday. I swear I did not expect something like that ever, I will remember it for my entire life.
I cannot believe that you have taken the time to organize such a nice party; I am left without words to express my joy. I am eternally grateful and I owe a lot to all of you.
I love having such good friends that are present at every step of my life. May the Lord be always present for you too, I love you all."
Category: birthday speeches
:: "To be alive means to walk along a road surrounded by people we love and that is what you are to me, the people I love most.
I want to thank you for coming and making my birthday such a special day, it has delighted me sharing with you such a special evening and it has been very nice to see you so happy.
Nothing better than celebrating my birthday with such good people, with whom I have lived so many things over the years. Love and happiness are flooding me, thank you all for being here tonight."
Category: birthday speeches
Make your speech to be the image of all the joy you feel, expressing how grateful you are in the presence of all. No matter if it was something that you organized or if you were surprised, everyone there loves you very much and they have come together to celebrate you.
I hope these tips have been helpful and that you put them into practice, you will see that everyone will be happy to see you so cheerful and grateful.
See you soon with much more; remember that we are always getting new articles and ideas into our website in order to help you get the best of it!
Birthdays of certain people, like your family members or special friends cannot be missed and should be celebrated with cute birthday phrases.
Maybe it is time to dedicate something different and original to break a little the monotony of a greeting and that may be special birthday messages which would reflect your feelings and the sincerity of your desires.
That is why we invite you to read the following beautiful birthday words. Use them freely through SMS, Facebook or WhatsApp and if you want to make it more personal you can also choose some birthday image to put it as background in your birthday message.
:: "Happy Birthday dear friend, my wish is that you would keep every day of your life the same joy with which you celebrate this date. Congratulations".
:: "Special greetings for your day, may happiness and luck accompany you throughout your life. Happy Birthday".
:: "I send you an affectionate birthday greeting. I wish you serenity, happiness and a super celebration with your loved ones ".
:: "Happy Birthday from someone who always has good thoughts for you and today I give you a space in my heart".
:: "Darling, I wish you a Happy Birthday surrounded by those who love you and that you may achieve all your goals".
:: "20 years ago was born a star that has your name and for that reason I wish you to shine in everything that you propose in life".
:: "Happy Birthday dear friend, I wish you a year enriched with happiness, may you have many personal satisfactions and that you would find the love of your life".
:: "Congratulations! I wish you have a jovial, fantastic and special birthday. Many hugs for you".
:: "The world is full of wonders to discover, do not let a single day go by without enjoying life. Happy Birthday".
:: "Happy Birthday, close your eyes and hold on to happiness as much as you can. Remember that dreams can come true if you intend to. Congratulations".
:: "I wish you an unforgettable birthday, an extraordinary party and the realization of all your goals. Happy Day".
:: "May your tears become stars, instants be transformed into unforgettable moments and you be always special for those who know you and want the best for you. Happy Birthday".
:: "I want your happiness to be constant and it would awake in you all the encouragement to continue fighting for your dreams. Happy Birthday".
:: "Happy Birthday, your party will last a few hours but your dreams will never end".
:: "As time goes by, it will be more difficult to accept the years that you fulfill but I will always remain by your side. Happy Day".
:: "There are many beautiful things that I would have trouble listing, but the most beautiful thing I have in this life is the friendship we share. Happy Birthday".
:: "I wish that in your life you always have a smile, that you receive many opportunities to be happy and that you renew each emotion with great enthusiasm. Happy Birthday".
:: "There's no problem if you will continue to fulfill many more years, the most important thing is to enjoy life with your family. Happy Birthday".
:: "Happy Birthday and that you would continue being a fascinating person full of vitality to enjoy your life and the affection of those around you".
With these cute birthday phrases you can express an affectionate greeting to whom you esteem and wish the best on this special date.
More related posts :
Best birthday messages for friends
Birthday letters for my girlfriend
Birthday letters for my wife
Birthday messages for friends
Birthday messages for a 15 years old girl
Download birthday messages for a Father
Examples of Birthday speeches
Happy birthday messages for my boyfriend
SMS birthday for a girl
Sweet birthday letter for my Mom
Thanks messages for birthday greetings
Birthday wishes for ex boyfriend
Credits :
Image courtesy of "Pixabay.com" Modified by : todaytip.net
If you liked this page you can help us by giving us a "like" on facebook, twitter. Also if you want you can help this website by sending your originals specches for birthday, and will be published, others friends will thank you.