Best 'I love you' messages for Him & Her ? Deep love quotes to express how you really feel ? .Successful couples know very well that to strengthen their relationship it is very important to share beautiful romantic words throughout each day.
We should not assume that our partner knows that we love him; we will have many opportunities to dedicate tender love messages and express our feelings.
Get ready to send beautiful romantic phrases to the man of your dreams and thus gain an even bigger space inside his heart.
:: "I long to have your love until the end of my days and may you be the angel who will always be with me."
:: "Like an intense fire is this love that burns deep in my soul and has melted the ice of my heart."
:: "I enjoy your sincerity and good feelings, and I thank life for allowing me to be by your side."
:: "Day or night, cold or hot; every moment is amazing because you are by my side, sweetheart."
:: "Give me your hand, sweetie, I swear that if you are always with me my life will be blessed and if I never lack your love it will be a gift from God."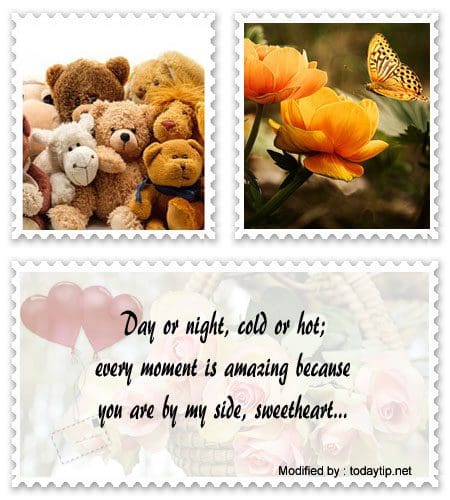 :: "When you look at me and your eyes shine, I confirm that you really love me and when you kiss me I can feel the strength of your heart beating."
:: "I don't want my words to be blown away by the wind; I love you and I ask you to stay with me forever and you'll see that I tell the truth."
:: "My love is only for you and to the noblest feelings that emanate from my heart belong to you."
:: "When I met you, one of my fantasies was to be the owner of your heart, that's why I still have a hard time believing that so much happiness is real. I feel so complete by your side, love of my life!"
:: "In your warm smile I can feel calm and your tender hugs comfort my soul. I adore you and I only wish to always be with you."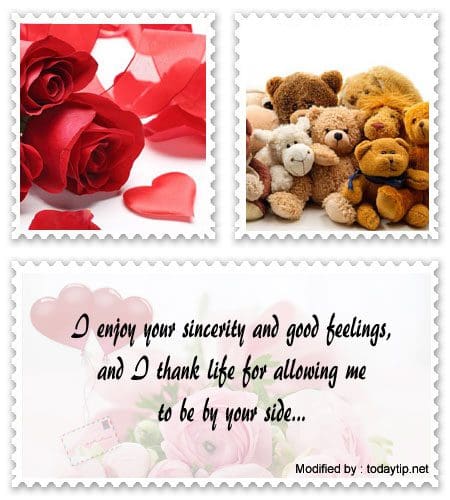 :: "I feel that life is better when I am by your side and every detail you with me, makes me feel more in love."
:: "Your sweet voice shakes my senses and with each kiss you give me you make me feel more alive than ever."
:: "Although there are people who have a hard time understanding our love, we should never stop feeling free or loving each other with all our strength."
:: "Conquering your love seemed very difficult to me, but I finally I made it, never forget that I love you and that I will never stop doing it."
:: "Even if we sometimes discuss, our love bring us together again. This great feeling will never cease to be real!"
:: "Listening to your name is enough to completely shake my body, I am so in love with you."
:: "Our world is full of beautiful love thoughts, tender words and the most beautiful feelings. I adore you honey!"
:: "The man of my dreams has no comparison with you, you are more incredible, tender, sweet and intelligent than I ever imagined. I love you so much sweetie!"
:: "Here or there, I will still love you because the place does not matter; if you are with me I reach happiness."
:: "I keep thinking that there is no other man like you and that I am lucky because I conquered your love."
Send any of these beautiful romantic texts for your boyfriend and in return you will receive endless moments of happiness at his side.
Do not stop cultivating the beautiful feelings that bind you or stop sharing beautiful love thoughts with him. Until the next opportunity!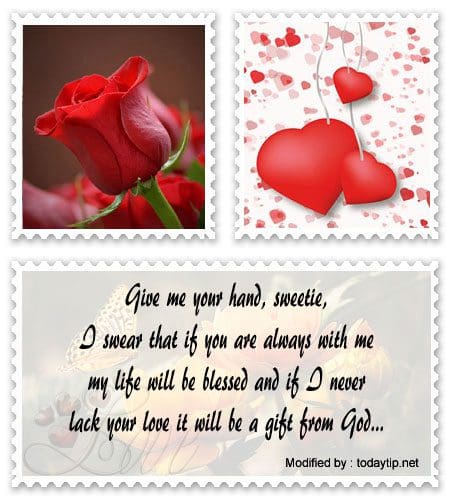 Love is a feeling that comes when you least expect it and you feel an enormous happiness. By the time you see the person you always dreamed you will recognize him because it will be suggested by your heart, it will let you know. Do you have the joy of having found your soul mate?
We present a list of thoughts to find the right person. These phrases will help you to express the happiness you feel because true love has called at your door.
– "I was looking for you in many places and sometimes you confused me, but now I feel like you're the guy I always dreamed. Thank you so much for making me feel so lucky. "
– "I thought the perfect person for me was not born, but I was fortunately wrong. You came into my life to give me your love. On this day I want you to know that I love you and will never stop loving you. "
– "Since I'm around you I feel complete. The great happiness that you give me will not compare to anything. I hope this beautiful feeling to last forever because I can not imagine my life without your love. "
– "The joy we feel to be together seems worthy of a fairy tale, from the moment our eyes met we feel the crush of love. This is not a passing infatuation, ours is love of truth. "
– "I always looked for someone who can appreciate my feelings, to understand me and above all feel very happy to have my love, it took me years to find you but today I feel happier than ever."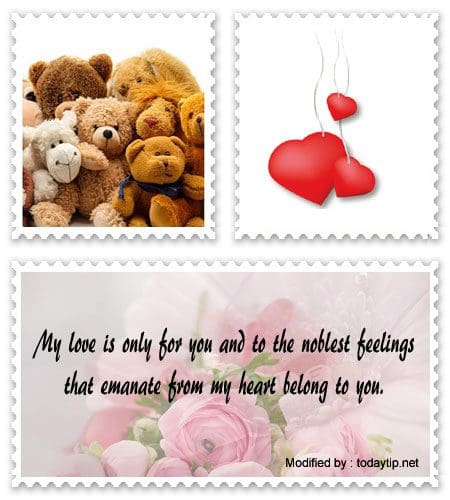 – "They played with my feelings again and again until I stopped believing in love, however you can get to me and I realized it was worth it to give it a try. I do not regret being with you because I have found that you're the guy I always wanted. "
– "After so many disappointments I became a cold and suspicious person, yet you have done it again for me to believe in love. I'm glad I gave you my heart. "
– "I had closed my heart forever, but when I met you I felt that this time love was knocking my door. You're the one who has restored the joy to my life. "
– "You can not feel happiness if we don't have love. Despite having everything I needed someone by my side. Today you're part of my life I feel that everything has improved and now I am completely happy. I love you so much, honey. "
– "I walked looking for love in many places and I did not realize that was very close to me. Now that I've realized that you are the love of my life, rest assured I will never stop loving you. "
– "By your side I have healed all wounds I had in my heart, thanks to you I am happy because you have taught me what true love means. You will always be my princess. "
These thoughts about finding the right person will be very helpful for you to express the great joy that is in your heart to be near the person you were always looking for.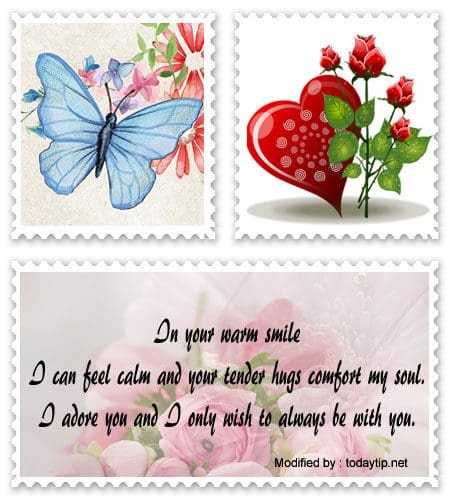 More related posts :
Anniversary messages for my boyfriend
Beautiful thoughts for Valentine's day
Good night love messages
Happy Valentine's day wishes for my husband
I'am sorry love letters
I'm sorry quotes for him
Love messages for my boyfriend
Love messages for my husband
Love text messages
Romantic anniversary messages
Romantic messages for him who is going away
Romantic messages for my boyfriend
Valentine's day sample letters
Credits :
Image courtesy of "Pixabay.com" / Modified by : todaytip.net/
Tags:
download best top sweet & flirty text messages for girlfriend, download best top sweet & romantic messages for girlfriend,download best love messages from the heart,romantic love messages to make her fall in love,sweet & romantic messages for girlfriend for whatsapp,free download love cards for Facebook

If you liked this page you can help us by giving us a "like" on facebook, twitter. Also if you want you can help this website by sending your best romantic love messages, and will be published, others friends will thank you .
as07gh06jk20hg