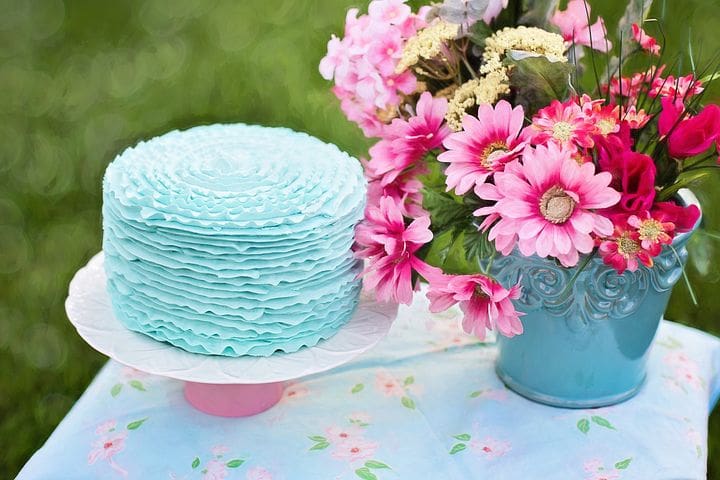 She was your first friend in this life, your adventure partner and you still love her very much, and that's why you will want to send cute Happy Birthday greetings to your sister.
There are perfect occasions to express love to our family, so take this opportunity to send beautiful words to congratulate your sister on her birthday.
Below you will find some original birthday texts to share with your sister, through them you can send your love and gratitude.
:: "There are countless moments full of laughs and joy that we have shared together in our lives, so with love and gratitude I wish you a Happy Birthday, my dear sister."
:: "Thank you for helping me in the difficult moments and for giving me words of encouragement and your full support unconditionally. My pretty sister, I wish you a Happy Birthday! "
:: "Happy Birthday, little sister! I wish you the best in the world today and always, May all your dreams come true and that all your days are full of love and happiness. "
:: "I remember when you were born because you were so small and fragile, now you are a woman and I am very proud to wish you a Happy Birthday."
:: "Congratulations on your birthday, my beautiful sister! I ask God to shower you with many blessings and to help you fulfill all your wishes. "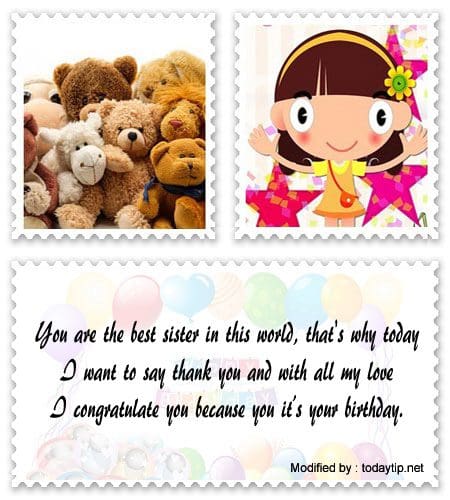 :: "You are the best sister in this world, that's why today I want to say thank you and with all my love I congratulate you because you it's your birthday."
:: "I am very proud of all your achievements and I am glad to see you so happy making your dreams come true. My beloved sister, congratulations on your birthday! "
:: "I want you to share this special day with our family and also with your good friends. I wish you a very happy birthday and May all your days are full of joy. "
:: "Thank God for giving me such a wonderful sister. I love you with all my heart and on your birthday I wish you thousands of congratulations. "
:: "Do not have any doubt that your dreams will be fulfilled and that you will achieve your goals. You are a beautiful and very intelligent woman. My beloved sister, Happy Birthday! "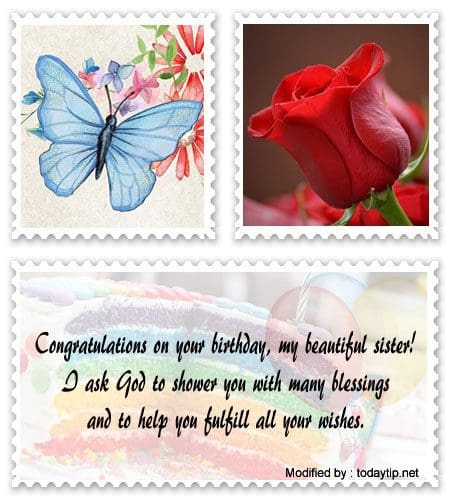 :: "I send you a huge hug and many kisses to wish you a Happy Birthday, my beloved sister. I always carry you in my heart! "
:: "It was a day like this in which a wonderful person was born who was my first friend, who gives me good advice and who loves me a lot. Happy Birthday dear sister! "
:: "We are not only siblings, in you I have also been able to find a great friend and that is why I adore you so much. Happy Birthday, little sister of my heart! "
:: "You are very far from home and we miss you very much, but my heart is always with you. I wish you a very Happy Birthday, sister! "
:: "Forgive me for not telling you often, but I love you very much and I thank you for being so good to me. Happy Birthday my pretty sister! "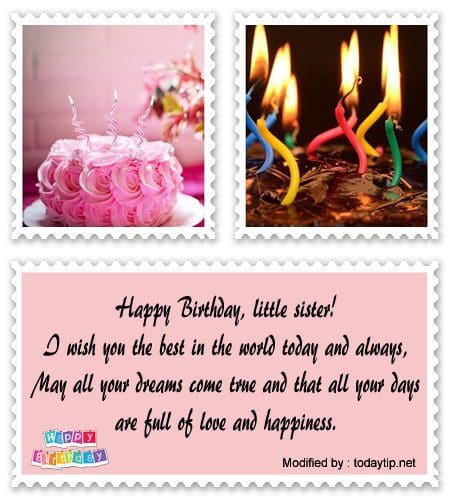 :: "You have taken great care of me, sometimes as a Mother would have done it, that's why I feel a very special affection towards you. With all my heart I congratulate you on your birthday! "
:: "We have been together forever and although sometimes we argue we love each other with all our hearts. Happy Birthday to the best sister in the whole world! "
:: "No matter how many years have passed, you and I remain the same and we always see life with optimistic eyes. I'm so happy to wish you a very Happy Birthday! "
:: "I remember with great joy the days of our childhood together and also our youth. My beloved sister, I love you very much and I wish you many congratulations on your birthday. "
:: "You are one of the greatest blessings that God has given me in this life, that is why I want to wish you a very Happy Birthday and ask that your dreams come true."
:: "I still remember when I saw Mom with you in her arms, for the first time, I felt that life had given me a great gift and so it was. Happy Birthday, my beloved sister! "
:: "There is no better sister than you in the whole world, that's why on your birthday I want to wish you thousands of congratulations. God bless you!"
:: "Our whole family is celebrating and how can we not be if it's your birthday and we love you so much. May God bless you, my beautiful sister! "
These new Happy Birthday messages for your sister will come from the bottom of your heart bringing joy and all your love.
We wait for you in a next opportunity, visit us to download wonderful poems to wish a Happy Birthday to your loved ones.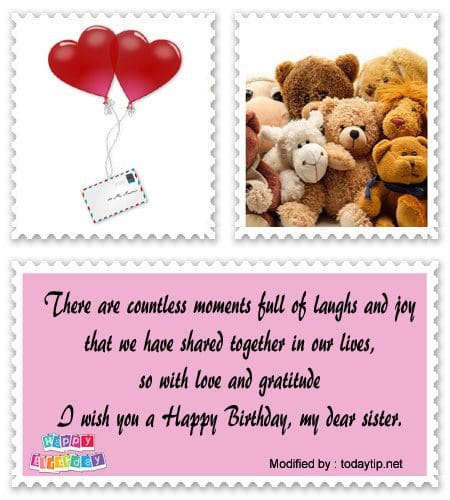 Are you searching for sweet birthday letters to your sister ? .For those of us who have had the joy of sharing our lives since we came into this world with a sister, we know how special it means to have one.
Together, sisters, ever since the beginning of life, they know each other and between joy and sorrow they learn to love each other, to share everything they have and so they create relationships that are difficult to break.
It is often very hard for us to put into words the feelings of love, tenderness and gratitude that a sister awakes in us, so that is where we can make use of a nice letter, in which you can express your feelings of happiness, nostalgia and gratitude for all you have lived together until today.
We offer you two models of little notes to help you express yourself better.
Dear sister:
With all my heart I wish you a lot of happiness on your birthday!
It is pleasant to remember when mom brought you home for the first time and you looked like a cute little doll, we wanted to play with you, and since then that is how I remember you, like the baby I always have to care for and always accompany you, watch over your dreams and ensure you celebrate your triumphs and open my arms for you whenever you need comfort; life made us follow different paths, but that does not mean that we have to stop seeing each other and stop worrying for one another.
You know I love you and I always remember you with affection and tenderness, because you mean that to me, you have always been and always will be my little sister, and today that is your birthday I pray to God for him to give you the strength you need and to make you a woman of great spirit and so you know how to face the challenges that life will set in your way with wisdom and prudence.
United always in the good and in bad,
Your sister that loves you.
Dear sister:
On this special day for you, because it is your birthday, I want to say through this little note, how much your presence has meant in my life, because from you learned everything good in my being.
Thank you so much dear sister for everything you gave me, you are the greatest, never forget the great times we spent together and every day that we enjoyed together; probably over the course of the years we will have to follow our different and separate ways, but you will never stop being my older sister, the one who has always been my example and guide.
I am so proud of you, all that you have accomplished so far in your life, you are a woman worthy of imitation, generous everywhere, always ready to help, whenever I needed of your time you never denied it to me, you were always there willing to fully support me.
I pray to God to keep you with a good health so we can enjoy for many more years an unforgettable day like this and even though we have different ways, the love of sisters lasts in our hearts which will be an eternal bond in every circumstance of our lives.
May happiness reign in your heart always, are the desires of your sister who always loves you.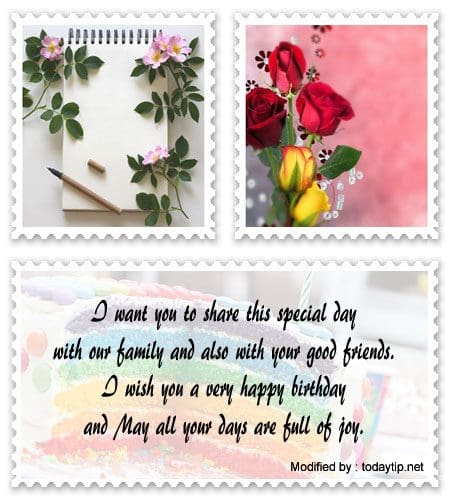 More related posts :
Best birthday messages for friends
Birthday letters for my girlfriend
Birthday letters for my wife
Birthday messages for friends
Birthday messages for a 15 years old girl
Download birthday messages for a Father
Examples of Birthday speeches
Happy birthday messages for my boyfriend
SMS birthday for a girl
Sweet birthday letter for my Mom
Thanks messages for birthday greetings
Birthday wishes for ex boyfriend
Credits :
Image courtesy of "Pixabay.com" / 
Tags:
learn how to write a birthday letter, good birthday letters samples, free birthday letters models, Original happy birthday Whatsapp text to my sister,Send by Whatsapp happy birthday wishes for sister,Send nice happy birthday wishes for sister by mobile,Best birthday quotes & images for my sister,Find the perfect birthday gretings & cards for my sister,Download birthday poems & greetings for sister
If you liked this page you can help us by giving us a "like" on facebook,twitter, others friends will thank you .
as28fg06gh20nm